Matt Lauria's back... at least for one episode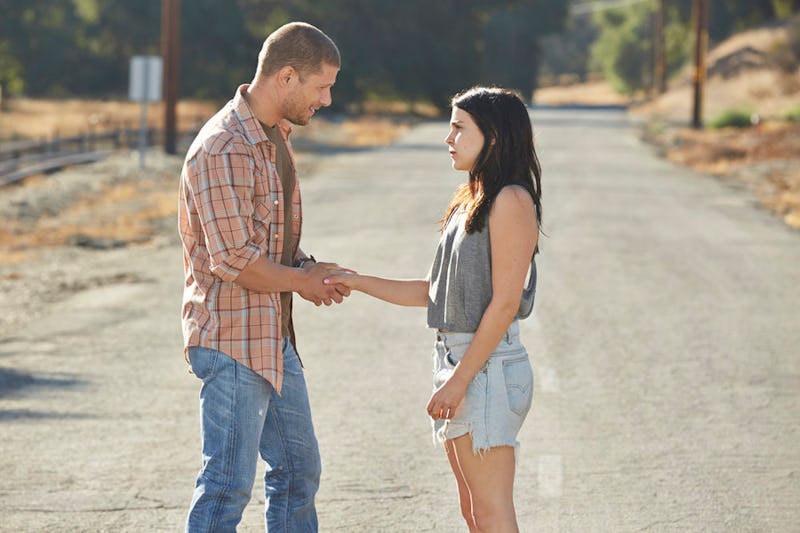 The reverberations of Amber's pregnancy continue to hit like a cascade of waves breaking shore; the shore, of course, being the Braverman clan in the sixth and final season of Parenthood. The news bonded Amber and Haddie (seriously, when was the last time we saw these two on screen together), opened what is sure to be an interesting and developing story line exploring Amber's relationship with mom Sarah, and, most importantly, was the first real spark to help convince Zeek that an arriving great-grandkid means he should have the surgery to fight for his health after all... But yet to be dealt with is the fate of the star-crossed lovers of Parenthood , Amber and Ryan. Backtrack to the Season 5 finale, where a reunion in a hospital bed got Amber pregnant in the first place. But now Ryan's recovering with his nightmare-of-a-mom in Wyoming, so what now?
NBC has already confirmed Matt Lauria will return for the show's episode Thursday night, and an exclusive photo released to E! News seems to show the pair holding hands as Amber drops the big news on her former beau.
With Matt Lauria already committed to DirecTv's new show Kingdom, which premiered this Wednesday, my hopes aren't high that he'll be a regular fixture on Parenthood this year. But with rumors that there will be a time jump later this season, the possibility of Ryan coming back for Amber after the baby is born, at least temporarily, seems like a foregone conclusion. Plus, this may be a case of history repeating itself. Matt Lauria's not exactly in new territory here: his character Luke Cafferty on Friday Night Lights got fellow East Dillon High student Becky Sproules pregnant during a one-night-stand. Becky ended up getting an abortion, but the unlikely couple rekindled at the end of senior year, when Luke gives Becky his state ring and a kiss goodbye before heading off to enlist in the army.
You know what else Friday Night Lights and Parenthood have in common? Showrunner Jason Katims. Maybe we'll see some Luke-inspired story lines after all.
Lauria said in an interview with TVLine that he would "absolutely love" to return to the show, although he has his own, erm interesting, prediction: Amber might be wooed by Bob Little, who was played his Kingdom co-star Jonathan Tucker.
"You must think, though, that Bob Little – who is now Mayor Bob Little – is probably going to be able to take back Amber, now that a few years have passed," said Lauria in the joint interview with Tucker.
ButTucker's not so convinced, at least based off a recent experience he had when the two actors sat next to a fan who recognized Lauria on a plane.
And the lady asks, "What is he in?…. Is it Parenthood?" I'm like, "Ding-ding!" She says, "Oh my gosh, he was incredible." And I say, "I've got to tell you, my favorite character is that Bob Little," and she goes, "Uck! I didn't like him.' I'm like, 'What?! But he was so charming!" And she says, "He was a little charming, but I don't like what he did with Amber. But that guy, Ryan? He's great."
Maybe there's hope for us yet, Ryber fans.
Image: NBC