10 Reasons 'Boy Meets World' Halloween Is The Best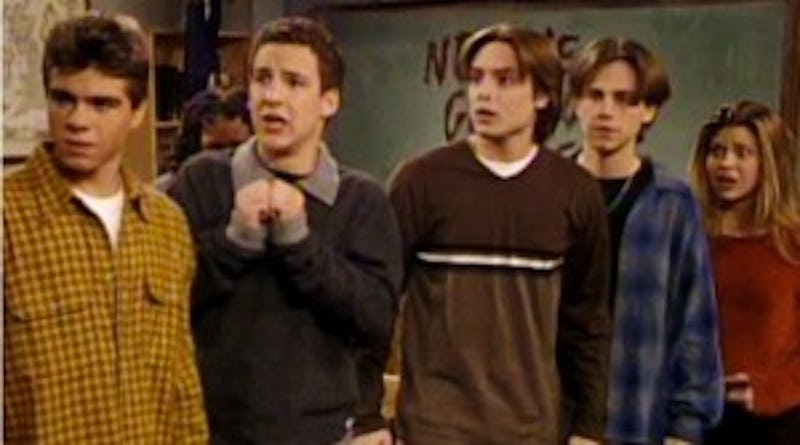 You can't just close your eyes real tight, click your heels together three times, cross your fingers and simply wish for an iconic television episode. As with anything extraordinary, it's a delicate balance of particular, emblematic elements that make it a great. In this case, it's in the way Boy Meets World perfectly and unexpectedly executed a horror episode. Sure, it had its moments of true-to-self campyness, but it succeeded in being suspenseful and actually sort of sinister (as far as Disney-made shows can be). And, as this Buzzfeed post points out, it was the home of some killer sayings. If you were lucky enough to witness the Halloween themed episode entitled, "And Then There Was Shawn," in its prime, you knew that you were experiencing TGIF magic .
Or, at least you should have. Because it's phenomenal (I don't use that term lightly) and you may even enjoy it even more watching it back as an adult. If you don't remember all of the little nuances of this action packed and absurd episode, I implore you, do it. But, if you have something against joy, laughter, and excitement (you monster), reminisce with me as I go over all of the elements that culminate to make "And Then There Was Shawn," a true television Halloween classic.
SHAMELESSLY BREAKING THE 4TH WALL
The only way to properly execute a TGIF horror episode, is to acknowledge how ridiculous the idea is off the bat. Andddddd, it totally worked. Kenny was just the start to an endless, aside-filled half hour of realness.
DELIVERING ON THEIR USE OF KENNY AS AN OBVIOUS PLOT POINT
I mean honestly, Kenny. Did you think you signed a one episode guest spot for nothing?
SHAWN, THE SUPER SLEUTH
Not so subtly calling out all of the cliche 90's horror films and their predictability. Things like Angela's ear splitting screams and getting locked in a desolate, spacious building at night. Which leads me to...
JENNIFER LOVE HEW — ERR, FEFFERMAN
Brilliant.
HOW THEY USED ERIC'S GENERAL NAIVETY IN THEIR FAVOR
Eric: "Oh, and there was blood coming out of the showers."
*Topanga shrieks*
Cory: "How was the pressure?"
Eric: "Oh, really good. Got all the soap out."
Because someone's gotta be the stupid one in a horror movie and with Eric, it's not forced.
Sorry, Eric. You were super hot though.
FUNNY AND YET ALSO SUSPENSEFUL
I remember watching and actually being terrified. Okay, I was seven. But still.
THE CREEPY JANITOR
Picking up a waste paper basket was never so dastardly. Plus, he was pale as powder and had a middle part. A MIDDLE PART. I'd be suspicious of him, too.
THE EERIE MUSIC
Fast forward to 0:52. Nothing to scare the bejesus outta ya like a murderous jingle. Ya feel me?
THE FEENY REVELATION, OR HOW THEY GOT AWAY WITH KILLING PEOPLE OFF WITHOUT PUTTING A DAMPER ON THE EPISODE
Because really, there isn't any other way to soften the blow of Feeny's brutal, scissor-induced murder, except to know that he "got some" while still alive.
*SPOILER ALERT* THE TWIST
I mean, I certainly wasn't expecting Shawn to be the killer. Although, he did a stellar job of explaining his violent daydream. Apparently John Adam's High offered a crash course in Psych 101 that Shawn EXCELLED at, which subsequently made him realize that his "child of divorce" feelings about Cory and Topanga's breakup were what caused him all that grief.
But hey, it worked. I bought it. Actually, I'm still buying it.
Images: Michael Jacobs Productions; giphy; morethanaprofoundbond/Tumblr; jessibearr/Tumblr; zelfied/Tumblr; liamgotspooky/Tumblr; batfamilia/Tumblr; automatedlasermonkees/Tumblr; ashagreyjoyed/Tumblr; fanpop.com;