Is She Headed to "Camp Cupcake?"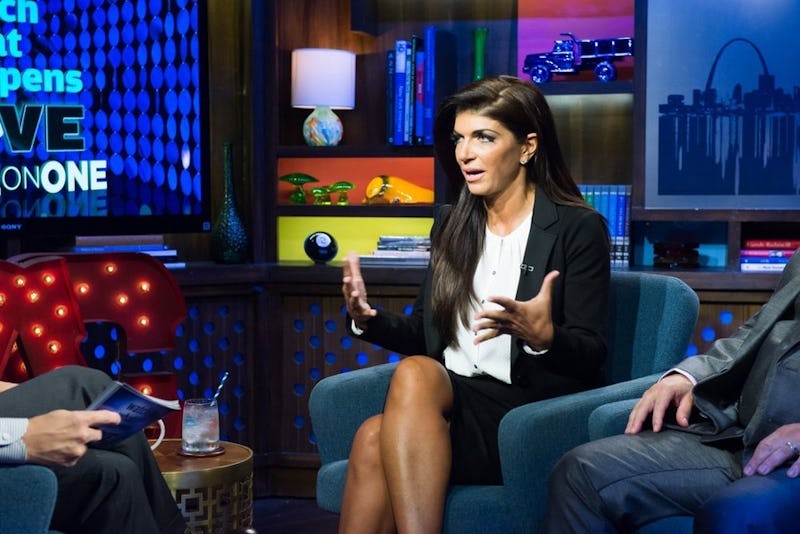 The real life drama of one real housewife of New Jersey has sadly overshadowed the drama of her reality television show. If you've been following along, you'll know that Joe and Teresa Giudice were sentenced to prison on Oct. 2 after pleading guilty in March to multiple charges of fraud. After the ruling, the couple naturally went on Bravo's Watch What Happens Live to discuss the verdict and reveal when they would be serving time. We now know that Teresa will begin serving her 15 months in prison on Jan. 5, 2015 with Joe beginning his sentence after Teresa is released. As for where Teresa Giudice will serve her sentence, that's a bit harder to figure out.
Radar Online reports that a source claimed Teresa will be serving her sentence at Alderson Federal Prison Camp in West Virginia. An article on NJ.com came to the same conclusion for the prison location based on the length of Teresa's prison sentence and her involvement in the charges being less than that of her husband. The website also mentions the federal prison camp in Danbury, Conn. as an alternative locale for her prison term, as it is only 80 miles from the couple's Montville Township home.
The source at Radar said that Alderson is the likely favorite:
Teresa's advisors have told her that she will most likely go to Alderson because the other women's federal prison in Connecticut — Danbury — is transitioning to housing men only. Danbury is much closer to Teresa's family in nearby New Jersey, but the length of her prison sentence will probably rule it out.
Alderson's last high profile inmate was Martha Stewart when she was imprisoned for five months after being found guilty of insider trading. According to Radar's source, the prison camp is nicknamed "Camp Cupcake" because of its minimum-security status and the activities that are offered like yoga and cooking classes. The inmates are not kept in communal dorms, but instead are housed in cottages and there is no barbed wire surrounding the prison.
Though these accommodations don't seem overly harsh, Teresa is apparently refusing to fully accept that she is heading to prison in the coming year. Radar's source says, "Teresa refuses to even look at any of the material regarding Alderson. She is hoping she will get a last-minute reprieve, but that isn't going to happen."
The reality star admitted in her WWHL interview that only the eldest of her four children knows that she is heading to prison. For their sake, I hope that the Giudices are able to ready the children for these eventual prison sentences as much as they can, and that media leaves the kids alone to deal with the temporary loss of their parents.
Images: Getty Images