Who Knew Fake Cake Could Be a Good Thing?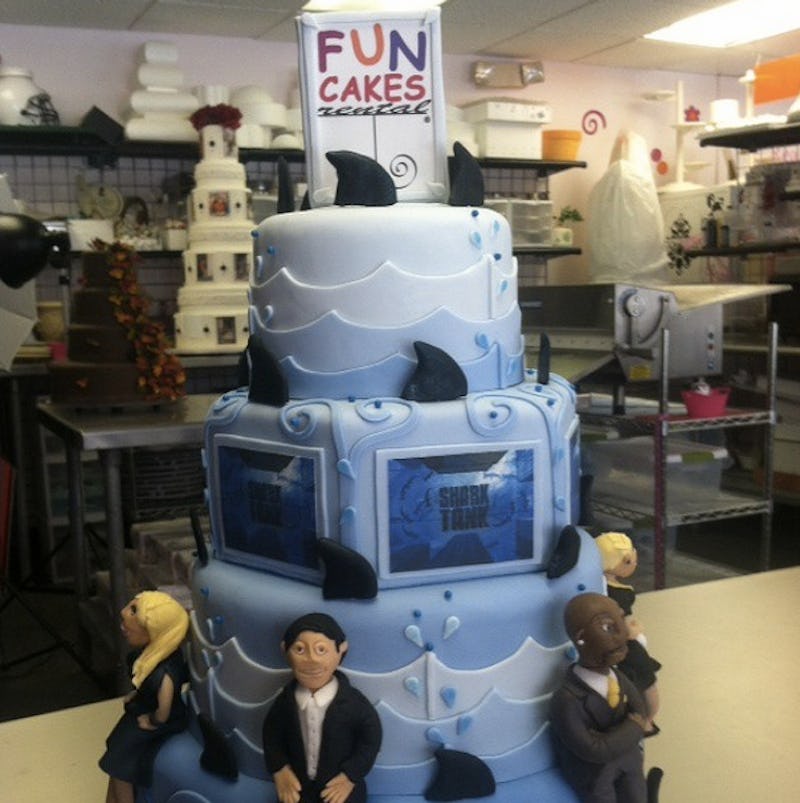 Deception is a heavy allegation to pose on anyone, but totally warranted if it's a serious matter. ABC's Shark Tank is a hot spot for the occasional very bad idea, but what to make of a good idea built on a bed of lies? Especially if its a cake-based lie? That's right. Funcakes Cake Rentals, in the grand tradition of things named "fun" that have a little less fun in them (see: fun-sized candy bars), is a fake cake company. I know, I know, who would ever want to get a cake you couldn't eat? It's downright Un-American. But there is a method to their madness.
Funcakes is for anyone who wants to throw a big fancy event, but not necessarily throw down an entire paycheck for something out of Cake Boss that people are just going to end up shoveling into their mouths anyway. When you look at it that way, it actually makes a lot of sense.
With so many hot dessert trends, you can offer guests a more affordable single-serve sweet, (maybe even made from home to stretch your dollar further), and not sacrifice the look and feel of having a great big towering pile of sugar and frosting.
Here are the some quick need to know facts about the cake product that is about to change the way you look at cake forever.
They Look Super Real
That's because they are made with real fondant and gumpaste. The base is made of easy to manage Styrofoam, so you won't have to fret over how to transport your new giant rental, or how to carry it into the venue.
The Idea Was Inspired By Real Brides
Real brides who looked at fancy cake prices and thought "yowza." Especially for a young couple plunking down funds on a huge reception, and probably also a honeymoon, cake seems like one of those things you want to have, but know in your gut is probably not the best use of money. Brides would try to rent display cakes from creator Kimberly Aya at wedding shows and expos, looking to save some scratch off their wedding budget. Kim saw a business opportunity and Funcakes became a reality.
You Can Have Your Cake & Eat it Too, Literally
If you're worried about how you'll get those cute "feeding each other cake" photos, creator Kimberly has thought of that too. The bottom tier of each cake has a secret section where you can put a real cake into. It's hidden under the fondant, so you can cut it and get some cute snaps in before serving your guests some basic sheet cakes from Costco, or your local affordable retailer of choice. It's sort of like the ninja spy of affordable wedding options. Is it real? Only you and your partner know for sure!
You're Guaranteed To Love at Least One
Funcakes has an enormous variety of cakes to choose from and they are all ready to be rented right now. Check out the Funcakes website for the selection and to decide if your next event should feature a classically simple cake, a colorful design, some glitter, or anything else you can come up with — they also offer custom cakes.
Images: cakerental/Instagram; Cake Rental by FunCakes (2)