'AHS' Star Pepper Looks Different IRL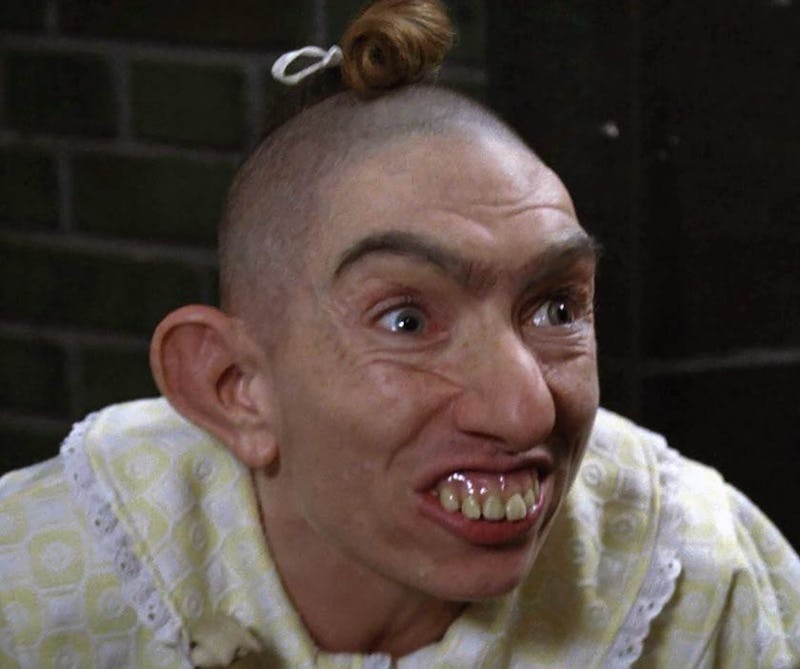 She's baaaack. Ryan Murphy's creepy FX drama has made it a habit of keeping actors onboard across multiple seasons of the anthology series, but it had yet to bring back a character from a previous season — until now, that is. American Horror Story: Asylum character Pepper has returned AHS for Freak Show. Pepper's new story on Freak Show predates her time at Briarcliffe, so essentially, we are witnessing a Pepper "prequel" with the fourth installment of American Horror Story. The Asylum fan favorite is sure to bring in viewers who are curious about Pepper's fate, but perhaps the most curious thing about Pepper is that, in real life, this actress looks absolutely nothing like the character. Pepper actress Naomi Grossman clearly has the chops to play the role, even if she's not the "freak" (their words, not mine) that Pepper is portrayed as on screen.
Grossman's role on American Horror Story isn't exactly funny (though Pepper often acted as the dark comedic relief on Asylum) so you might be surprised to learn that Grossman considers herself a "comedic writer/actress." She's starred in several short films, many of which she has directed, written, or produced herself. One of these comedic shorts is titled "Hot Yoga," and is about a very touchy-feely yoga instructor. Considering Grossman's own passion for the practice, let's hope that this short wasn't influenced by any real-life instructors.
And if you're curious about what Pepper looks like in real life, you're not alone. The actress wrote about her own experience getting into character for American Horror Story for Entertainment Weekly, stating:
That first day on set, no one wanted to make eye-contact with me. They assumed they'd cast a real microcephalic. Then, they began to warm up, figuring, "Oh! It's an actress! In makeup! We're shooting a TV show!" Immediately the hierarchy of star vs. guest star vs. co-star vs. background was dispelled. Everyone wanted to know what I actually looked like, how long it took, did it itch, etc.
It should be noted that for a series that promotes acceptance year in and year out, it's wildly disappointing that the crew on set were unwilling to hang out with some with microcephaly.
Of course, you are probably still a little curious about what Grossman looks like without her makeup. Check her out in her cute, pseudo-Anna Wintour wig below (she had to shave her head for the role of Pepper):
Of course, the actress looks equally as chic without any hair at all:
Truly stunning. But let's face it — Pepper's stunning, no matter what form she takes. Why else would we be so excited to have her back?
Image: FX (screengrab); Getty Images (2)