It's Not Offensive, But It Does Need Better Jokes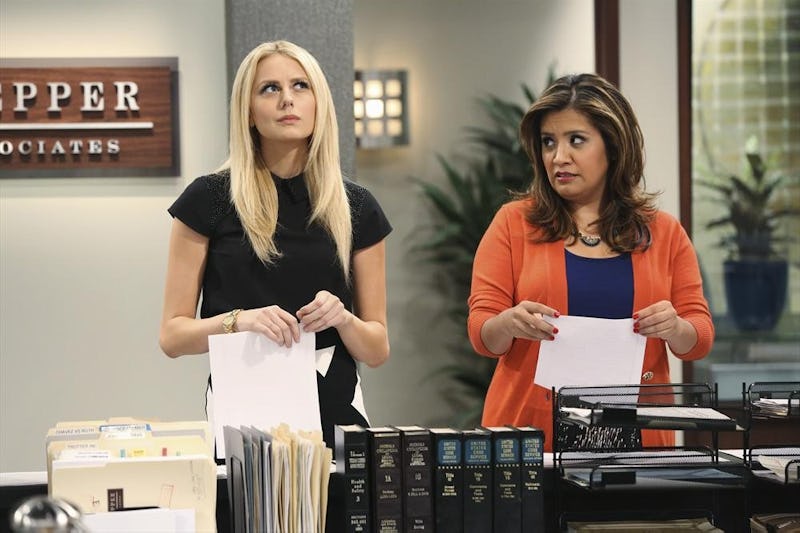 I'm eagerly waiting to find out what audiences think of ABC's Cristela, the new comedy about a multigenerational Mexican-American family. But with its janitor jokes, references to orange selling on the side of the street, there comes a reflexive worry — is Cristela racist? Or at least taking advantage of too many Latino stereotypes? Well, I have confidence in Cristela Alonzo, the standup comedian who created Cristela based on her family and personal life, that she wouldn't let anything into the show that she was uncomfortable with.
And ABC, the network behind Cristela , is actually pretty committed to making diverse shows this fall, with black-ish their top new comedy and How to Get Away with Murder their top new drama. And we're still waiting on Fresh Off the Boat, one of the only stories about Asian-Americans since the 1990s. And ABC has at least four nonwhite showrunners on their network right now — Alonzo (along with Kevin Hench), Nahnatchka Khan of Fresh off the Boat, Kenya Barris from black-ish, and of course the almighty Shonda Rimes — which is pretty fantastic.
The show isn't doing anything wrong by trying to incorporate cultural observations. Actually, it's one of the few saving graces of the show. By making this a Mexican-American family and making Cristela a woman struggling to blaze her own trail by becoming a lawyer, it gives the character and show some context. I believe that Mulaney, which also comes from a strong standup voice that doesn't make a perfect TV transition, is suffering because it has absolutely no point of view, not even something as simple as "these people are friends" or "this is a bar where people from Boston love to hang out."
Just by placing the pilot in a specific transition in the characters' lives — Cristela is starting her first day as a law intern, her brother-in-law is tired of having her stay at her house, and the new internship worries her mother — it provides a chance to see what these characters care about, and defines them beyond just stereotypes. And like older sitcoms like Roseanne, it's trying to throw in a little bit of heart, which also helps to prove that it's not even aiming for the type of edgy racial humor that can get out of control and end up offending audiences.
Gabriel Inglesias being added to the cast as an occasional guest feels a little like the show is pandering to the Latino audience, only because it feels like most of his lines are only a half-step removed from his popular standup specials. And his overly horny character creeping on Cristela just feels so… dated. It's something that wouldn't be out of place on the worst 80s sitcoms.
And those are the stereotypes Cristela has to worry about — sitcom stereotypes. You can feel some of the jokes coming from three miles away not because they're offensive, but because they're stale. Maybe it's just the disease of an overworked pilot, but that's the thing that Cristela should be focusing on updating for the next few episodes. But its views on race should already be fine.
Images: Adam Taylor/ABC; PeriGilpin/Tumblr