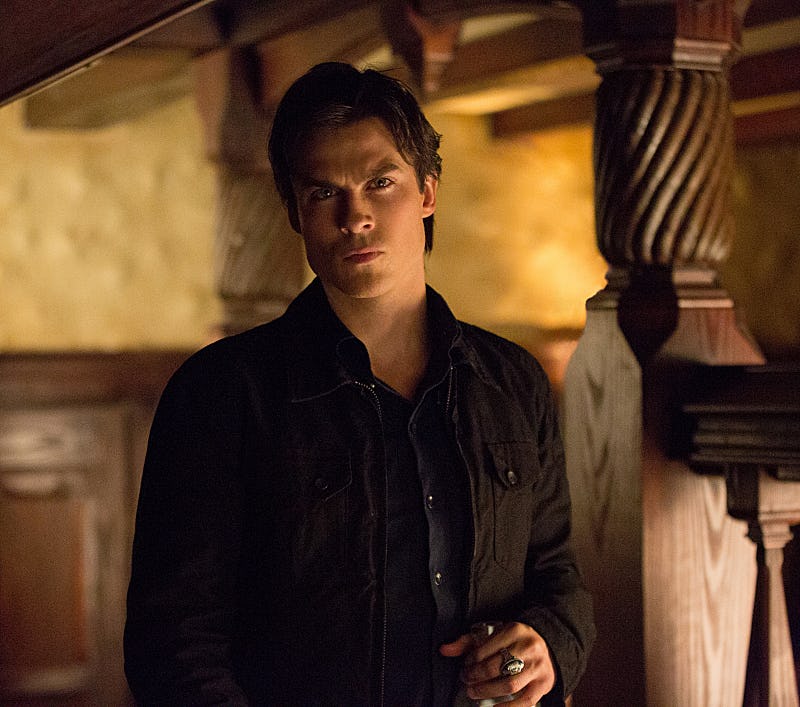 Well, that was easy. Just like Julie Plec promised, Tuesday night's new episode of The Vampire Diaries revealed Damon and Bonnie's location. And, just like any astute fan could've predicted, Damon and Bonnie are in 1994 Mystic Falls — though there's still no explanation for all of those pancakes. The Vampire Diaries has officially introduced time traveling to the great mystery that is The Other Side's collapse and possible something else. Tuesday night's "Yellow Ledbetter" might have introduced TVD Season 6's next big bad and apparently he/she is a Pearl Jam fan.
This might have been the shortest time we've ever had to wait for an answer on TVD in the history of the show. Well, that's an exaggeration because, while we know when Damon and Bonnie are, we have no idea why or how they got there. Tuesday night's episode rewinded back to the night The Other Side collapsed and revealed how Damon and Bonnie spent the four months that Elena spent becoming a vampire druggie. And, as expected, it was kind of creepy as hell and kind of Groundhog Day-ish.
Damon and Bonnie never left Mystic Falls — well, they never left a version of Mystic Falls. Nothing really happened to them when The Other Side collapsed, there was just a flash of light and they remained standing in the same spot. Weird. And, after a walk through Mystic Falls pre-burning down the Grill and Elena's house, they find a newspaper that reveals exactly when they are — May 10, 1994. The years when we all still listened to CDs and tied flannels around our waists and they're stuck there. Bonnie and Damon are living May 10, 1994 over and over and over again.
And they're not alone. Throughout the episode, Bonnie complained about not being able to solve a crossword puzzle and in the final moments of Tuesday night's episode, someone had solved it, fittingly, with the Pearl Jam song title "Yellow Ledbetter." You know, the song that also happened to be the name of Tuesday's episode. What does that mean? Well, obviously, that Bonnie and Damon aren't alone in this past version of Mystic Falls — so, who could be there?
My first reaction was to think, "Wow, it's totally Lexi." I mean, she was cool and into music — obviously she'd know the answer to a Pearl Jam clue. And we saw Lexi in the Season 5 finale, so bringing her back would kind of make sense, especially now that Stefan's gone off the rails. Lexi's return would mean that she could help Damon and Bonnie and ultimately end up back in the real world, so she could also save Stefan from himself. But then I had another thought — what if TVD just introduced Season 6's new big bad? We know that Julie Plec plans to introduce a "long, slow burn mythology" to Season 6 in the way of a new villain and this Pearl Jam-loving guy or girl could be it.
It seems kind of exclusive to introduce TVD's new villain to parallel-universe Mystic Falls where it can only terrorize Damon and Bonnie. There's no way for Elena & the crew to find out what's going on over there, so they wouldn't be able to know that it's type to step up their "investigation." But if the being or beings that are also in Mystic Falls are friendly, they obviously would introduce themselves rather than creepily solve a crossword puzzle, right?
God damnit, Julie Plec.
Image: Bob Mahoney/The CW