We Won't Have To Wait Long For Answers on 'TVD'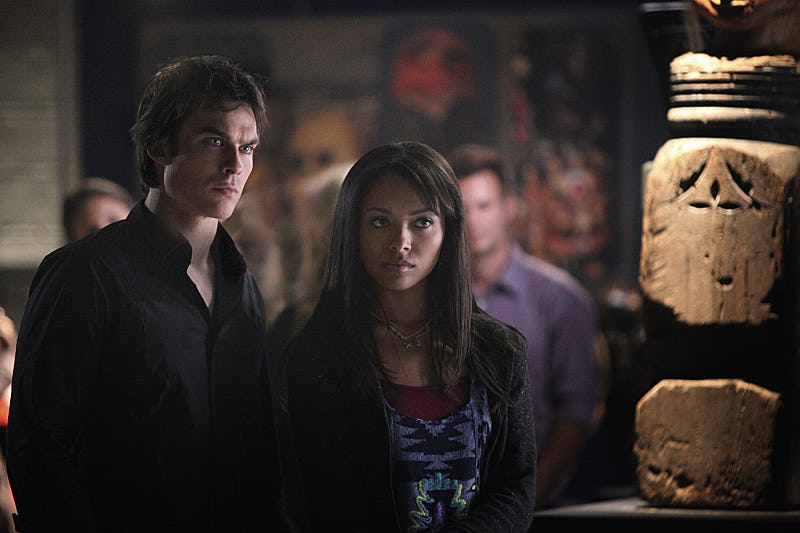 I can't be the only Vampire Diaries fan that spent their Thursday night wondering why the Vampire Diaries Season 6 premiere waited until the very end to check in with Damon and Bonnie. I also can't be the only fan that was confused as hell by the fact that Damon was MAKING PANCAKES instead of trying to get home. C'mon man. Well, that was Julie Plec's plan, apparently. In an interview with E! Online on Friday, Plec revealed, "you're supposed to feel frustrated and confused because that's what they are." "They" being Damon and Bonnie and, well, you succeeded because I'm frustrated and incredibly annoyed, but we won't have to wait very long to find out where these two are. Plec also revealed that fans will find out where Damon and Bonnie are on TVD during next Thursday's episode, "Yellow Ledbetter."
Well, thank the Original Vampires for small favors, am I right? I was all ready to go on a rant about how Julie Plec obviously hates me and wants me to suffer a thousand painful deaths, mentally, while I watch TVD every Thursday. But I guess she's not so bad — which is an opinion I'll probably take back as soon as Bamon destroys everything good about TVD .
Plec also dropped hints in her interview about where we'll find them, for all of you overzealous TVD fans out there to get started on your crazy theories. (I've got a few myself because, really, how could I not?) The showrunner told E!'s Kristen Dos Santos, "Anybody who wants to get a little clever trying to figure it out, they should dig a little deep into the episode titles and see if they can find some guesses."
God it's so like Julie Plec to get us running around like our hair is on fire trying to understand her ambiguous episode names. Which, for those of you that haven't check them out, the premiere's title is "I'll Remember" and the second and third episodes' titles are "Yellow Ledbetter" and "Welcome to Paradise," respectively. TVD's resident evil genius that puts Klaus and Silas to shame at times also revealed another clue. When asked about how she'd describe where Damon and Bonnie are, she said she couldn't say, but she could give us three keywords — "Familiar. Nostalgic. Empty." OK, Julie.
Good luck working with that info, TVD fans. I'll be here trying to figure out the symbolism of those vampire smiley face pancakes because it isn't fall TV season unless Julie Plec is being the absolute worst.
Image: Annette Brown/The CW, bonnieibennett/Tumblr (2)