What Does Bob Think Of His Porn Parody?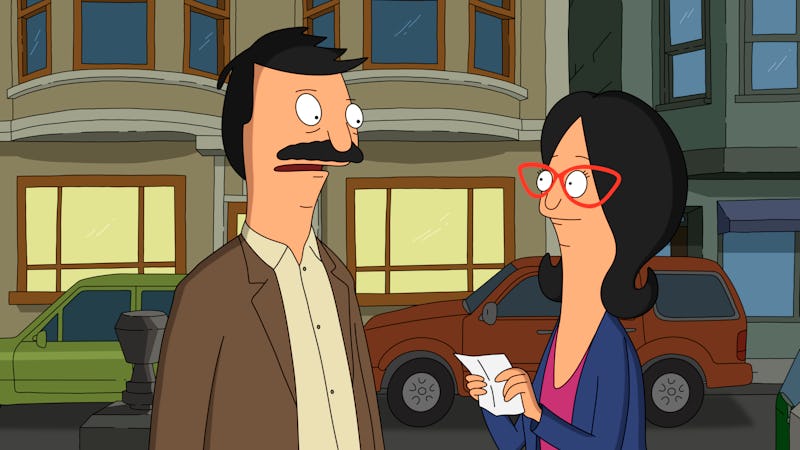 If you're a fan of Bob's Burgers, you've probably heard the strange, strange news by now. Someone made a porn parody of Bob's Burgers . And it's weird... or so I've heard. Yes, it would probably make Tina Belcher very happy that her zombie friend fiction has come to life — er, that's what this is called, right? Naturally, I had to find out what the folks behind Bob's Burgers thought of all this butt-filled fun time, so when I spoke with H. Jon Benjamin at New York Comic Con, I asked the unaskable question.
Sorry, anyone who was hoping Benjamin would say he saw the movie and loved it: Bob himself has not screened the cartoon-cum-porn flick. (Sorry, I really shouldn't be allowed near anything this pun-ready.) Benjamin and Teddy voice actor Larry Murphy hadn't seen the sexified version of their show, but they had taken time for the trailer. In fact, Murphy was rather excited about a certain cameo.
"I saw that guy," he offered quickly, pulling up a screengrab of Bob's Boners' own Teddy the regular. "I was surprised that I wasn't approached," Murphy joked.
"Well, based on what he did you could have done it," Benjamin offered. And he wasn't wrong. Apparently, porn Teddy isn't all that involved. Still, it seemed both actors were pretty amused with the whole affair.
"We were rather complimentary [sic] about it," says Benjamin, adding "I think always, that someone's gonna make a porn of everything." Again, he's not wrong.
And what else are people supposed to say when their most popular roles are turned into X-rated entertainment? You've got few options: flattery, disgust, or humor. And hey, these are funny guys. Of course they took the humor route.
Image: Fox; Giphy