Be Jessica Lange's 'AHS' Characters For Halloween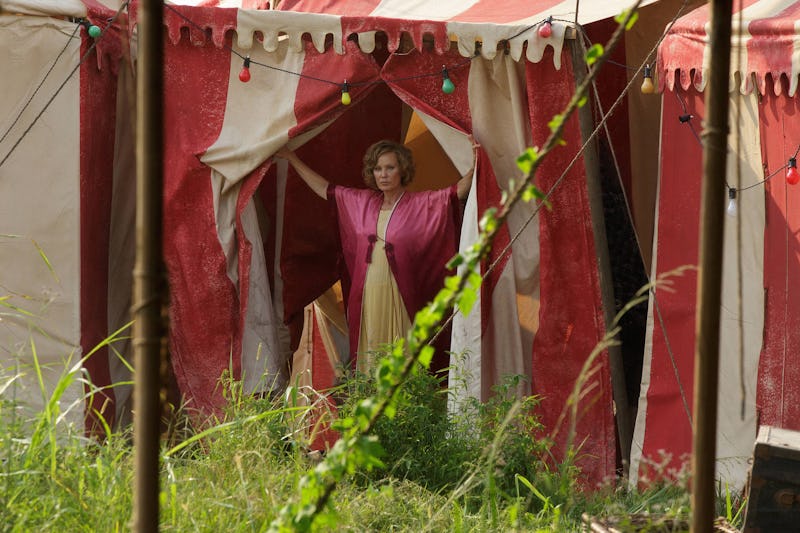 Is there anyone out there not talking about the American Horror Story: Freak Show premiere? I know you've listened to AHS: Freak Show 's Jessica Lange singing "Life on Mars" at least 500 times since then because Jessica Lange is the queen of sass, charisma, and, in general, the entire world. So, why would you not want to honor her existence by dressing like one of Lange's incredible AHS characters from the past four seasons of the show for Halloween 2014? Inherently, AHS is a Halloween goldmine — it airs just in time for the spooky holiday; it's featured murderers, nuns, witches, and clowns (all popular costumes); and, well, I try to live my life like Jessica Lange every day, so Halloween's the perfect excuse to emulate one of her best roles.
And, really, has ANYONE out there stopped talking about her "Life on Mars" cover? No, they haven't and you'd be surprised by how easy it is to find a powder blue pantsuit in 2014. Or, at the very least, a powder blue blazer. But if you're looking to go a more traditional, less David Bowie-like route for Halloween 2014, Lange's previous AHS characters have got you covered for that as well. Here's how to show your AHS and Jessica Lange (praise) super-fandom with these inspired Halloween costumes.
AHS: Murder House's Constance Langdon
Bring on the florals and the pixie. The costume for Lange's first AHS role as Constance Langdon is actually pretty easy to recreate — even if it requires you to bring some cupcakes to whatever Halloween party you're attending.
Floral-Printed Dress
Go for a similar style and color scheme with this printed dress from ASOS.
Short, Blonde Wig
Snag this short, blonde wig from Amazon for $17.89 and style it with hairspray and curlers to get Constance's look.
AHS: Asylum's Sister Jude Martin
Sure, you could dress like a nun — but what fun would that be? Everyone would probably just think you're a nun and you would have to spend the whole night explaining that you're actually a very specific nun, Sister Jude Martin. Jessica Lange would never deal with that, so, here's a better alternative (unless you already have a nun costume, then by all means go ahead and just wear a "Hi, My Name is" nametag).
Dress as Lange during Sister Jude's hallucinated performance of "The Name Game" like this, just make sure to spend the night cutting a serious rug and singing:
Light Blue Shift Dress With Sleeves
For a reasonable $43, you can get this light blue shift dress from Lulu's that's similar to Sister Jude's hallucination.
Sequins
Hot glue blue sequins like these from Ebay, around the neckline and at the ends of the sleeves to get a similar trim to Sister Jude's dress.
Voluminous Faux Bob
Follow this tutorial to get the perfect Lange-inspired hallucination hair.
AHS: Coven's Fiona Goode
You could realistically wear all of these Lange character-inspired costumes again, but the costume for Supreme Fiona Goode is one you'll absolutely wear 1000 times over. And perhaps the easiest to execute — all black everything, people, and with a pair of classic black pumps, an umbrella, and shades you're the baddest witch on the block.
Black Peplum Top
Just roll or push the sleeves up on this BCBGeneration peplum from Amazon to get a look like Fiona's.
Black Pencil Skirt
Pair this classic pencil skirt from Forever 21 with the peplum top and you're basically good to go.
Black Leather Gloves
This pair of faux leather half-gloves from Amazon are the perfect edition to your Fiona Goode costume and they'll only cost you $5.49.
AHS: Freak Show's Elsa Mars
Elsa Mars, with that David Bowie cover, might be my favorite of Lange's characters yet. And, while you could take on her '50s expat style and drape yourself in silky lingerie, this performance outfit is too good not to copy. And, really, pastel blazers are in.
Powder Blue Pantsuit
Start with this women's blazer from Amazon on top of a white shirt with a tie. And add this pair of ASOS cropped trousers. (It's OK if the color's don't match perfectly — you're running a freak show, after all.)
Powder Blue Eyeshadow
Apply this CoverGirl Eye Enhancers eyeshadow in Sterling Blue from your local drugstore, starting at your lid and going all the way up to your eyebrow. Like this:
Images: Michele K. Short/FX (2), ASOS (2), Amazon (4), FX (screengrab) (2), Forever21, Lulu's, Drugstores, beaufortplace/Tumblr