'Jane the Virgin' Vs. 'Juana la Virgen'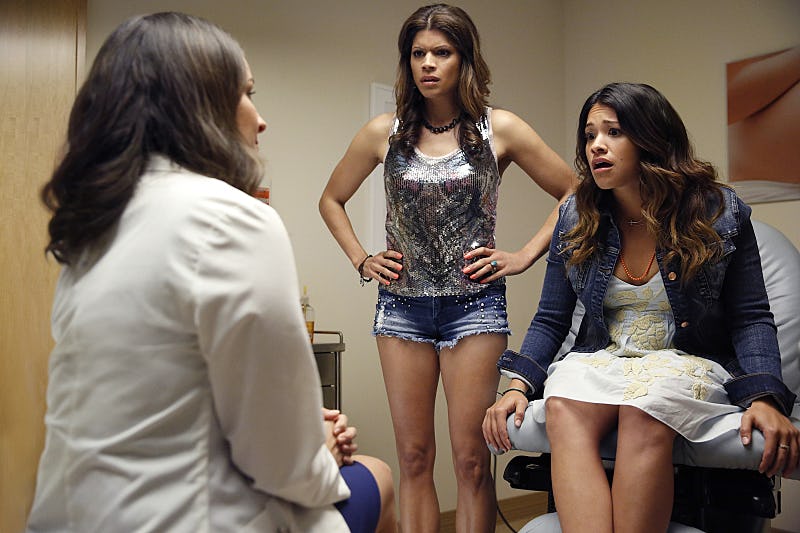 The CW's new, very sans-vampire sitcom Jane the Virgin premieres Monday night. Loosely based on the Venezuelan telenovela Juana la Virgen, the show centers around Jane Villanueva (played by the buzzed about Gina Rodriguez), a young woman who is accidentally artificially inseminated during a visit to the doctor. The celibate Jane finds herself with child. Hope she gave that doctor a scathing 1-star review on Yelp.
Yes, it draws from the original telenovela, but The CW adaptation isn't a shot-for-shot remake of Juana la Virgen. Yvonne Villarreal of the Los Angeles Times describes the American version as being "more akin to a fraternal twin to its Venezuelan predecessor than an identical one."
So, how is Jane the Virgin different from Juana la Virgen? I have some answers. Answers beyond obvious observations like "The cast isn't the same!" and "The language isn't the same!" and "One was filmed over a decade ago!" Full disclosure: I have not watched the Venezuelan version or the American version, so I turned to the Internet for answers. Here's what I found:
THE MAIN CHARACTER'S AGE
Juana is 17 years old; Jane is a 23-year-old adult.
THE MAIN CHARACTER'S FIELD OF STUDY
Juana wants to study journalism abroad; Jane is currently going to school for a teaching degree.
THE SHOW'S VIBE
According to the LA Times, Jane has a "brighter look" and a "more bubbly tone" than Juana. The U.S. version is, as Alessandra Stanley of the New York Times observes, "refitted with ironic distance and much more artful cinematography" and "shot in a bright candy-colored palette that suggests a modern fairy tale."
THE MAIN CHARACTER'S RELATIONSHIP STATUS
Jane has been dating a detective named Michael for two years; From what I've read, Juana doesn't seem to be in a serious relationship. (Juana la Virgen spoiler alert: However, Juana and the baby daddy fall in love and end up running away together.)
THE BABY DADDY
Juana did not know magazine publisher Mauricio before the insemination snafu; Hotel owner and former playboy Rafael is Jane's boss AND happens to be the first guy she's ever kissed.
Will Jane and Rafael fall in love and escape to the mountains just like Juana and Mauricio???
WE'LL SEEEEEEEE!
Images: The CW; lifetimetv/tumblr