This 'Gotham' Mayor Has Another Batman Connection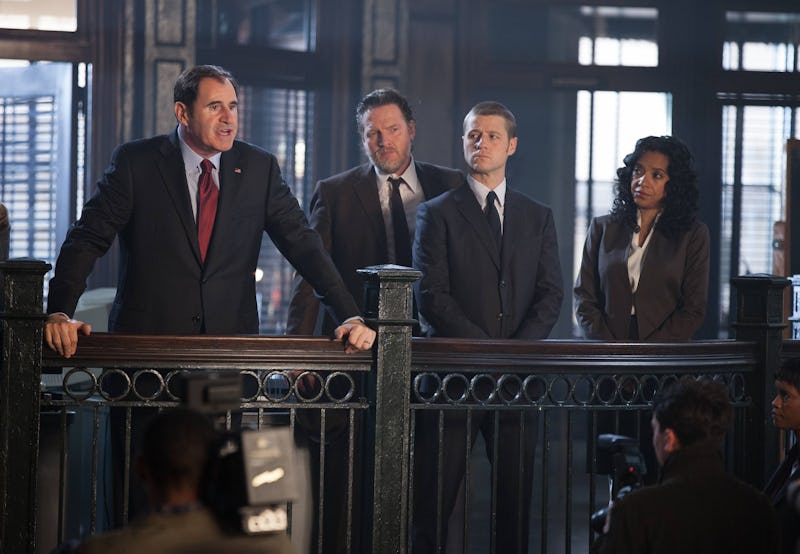 On Gotham, almost every cast member has at least one other memorable TV role under their (utility) belts. The Mayor of Gotham is played by Richard Kind, a character actor who you probably know from... somewhere. Seriously, he's had dozens of roles in films, on stage, and on other TV series, so no matter what you love to watch, you've probably seen him before. The Mayor will become a target as the Arkham lot bids go to a city council vote, which should determine if the Falcone or Maroni crime family has control over the site that will become home to the infamous Arkham Asylum.
Gotham City's mayors haven't always had the easiest time of things. They're usually either corrupt or empty figureheads worked around by crime families and the cops — there's a reason Jim Gordon is Batman's point of contact, not the local mayor — or they're useless pawns in super villains' plans. Whenever there's a bombing, kidnapping, or laughing gas attack planned, it's often the mayor who gets hit first. So there's no surprise that the Gotham City PD are hustling to keep Kind's Mayor James out of harm's way. Falcone and Maroni might not have total control over the assassin they're both using to take out their opponents, but they definitely have more power than Mayor James, who's been shown to be somewhat useless and occasionally ruthless so far. But hopefully the mayor will become more involved as the episodes go on, because Kind is too good of an actor to waste.
He's Got a Familiar Voice
Like many working actors, Kind has done his fair share of animated voice overs, from playing a nervous grasshopper in A Bug's Life to guesting on an episode of Phineas and Ferb.
He's Worked for the Coen Brothers
The Coen brothers are just two of the top directors who have used Kind well over the years. But A Serious Man, starring Michael Stuhlbarg, was like their love letter to under appreciated character actors, and Kind's role as Uncle Arthur, Stuhlbarg's gambling, gentle degenerate brother, is probably his best work.
He's Larry David's TV Cousin
Kind has also done plenty of comedy. He was on Mad About You, Spin City, and plays Larry's cousin Andy on Curb Your Enthusiasm.
He's One of George Clooney's Oldest Friends — And Prank Victims
One of the most unexpected things about Kind is that George Clooney is one of his longtime friends. Clooney pulled his famous kitty litter prank (in short, he tricked Kind into believing his cat was constipated for months, then suddenly not constipated at all) on Kind while they were roommates briefly after Clooney got divorced from Talia Balsam in 1993. Kind has also fallen victim to a few other Clooney pranks over the years, including a fake painting disguised as a gift and accidentally mooning Harry Hamlin's digital camera. Am I just not into pranks, or do George's sound particularly tough?
Back in the '90s, Clooney was Kind's best man at his wedding. And just a few weeks ago, Kind attended Clooney's wedding to Amal Alamuddin. So this Mayor of Gotham City has some A-List connections, including to another Batman (sorry, George, we won't let you live down Batman & Robin). Maybe if we're really, really, ridiculously lucky, and Kind is extremely persuasive, he can convince Clooney to return to Gotham?
Images: Jessica Miglio/FOX; Wilson Webb/Focus Features; Getty Images