'Archer' Isn't Really About Archer, Is It?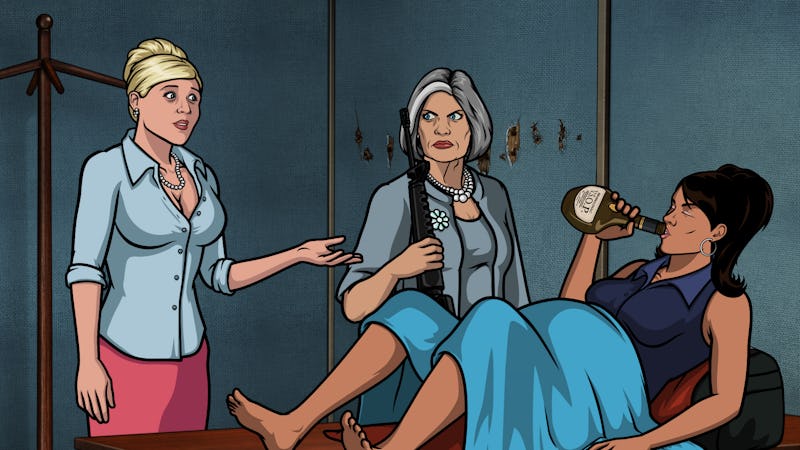 There's something peculiar about FX's Archer when you really start to think about it. Archer , which returns for Season 6 in January, is technically about a hapless, semi-racist, super-sexist, hunky international spy, Archer (H. Jon Benjamin), but when you look at the lineup, the memorable characters are almost overwhelmingly women. And when you look at the more interesting plots over the past few seasons, almost all of them center predominant on those women. It's something creator Adam Reed has noticed, in fact, he pointed it out when I spoke to him, Judy Greer (Cheryl), and Amber Nash (Pam) at New York Comic Con 2014 about the long-running FX cartoon.
"There are actually more female major characters than there are male major characters," Reed offered rather bluntly. And he's not wrong. Archer may be the titular character, but if it weren't for kickass secret agent Lana (Aisha Tyler), bonkers assistant (maybe?) and sometimes country music superstar Cheryl, er, Cherlene (Judy Greer), Archer's mommy dearest (Jessica Walter), and the one and only Pam Poovey (Amber Nash), the show would be, well, really smart and dirty and kind of boring. These women are what keep Archer interesting (not to mention completely insane). And if it wasn't for Nash and Greer, this show might have remained simply a show about a drunk spy with 10,000 black turtlenecks and a sex addiction.
"Pam, for example, was not gonna be a huge character, but Amber's so great I kept wanting to have more and more Pam," says Reed, and I'm inclined to agree. Whether Pam is coked up and walking around with "the body of a 1940s pinup," as Nash put it, or naked in a hot tub with a German diplomat or getting mixed up with the Yakuza, any amount of Pam is a good amount of Pam.
In fact, Reed seems to agree, because Pam is getting her very own family episode in Season 6 (and while I'm glad Reed's own character Gillette got his own family episode complete with Jack McBrayer as the voice of his brother, it's about time).
"Pam goes back to Poovey farms because her sister gets married and her and her sister hate each other. And her sister is played by Allison Tolman from Fargo [on FX], who is an amazing human being," says Nash. (Excuse me while I do a happy dance at the thought of the wildly talented actress returning to TV, even if it's just as a voice.)
Of course, you can't have Pam without old "Bird Bones" (Nash admits that less-than affectionate moniker might be her favorite Pam line ever) and Cheryl was also almost left back in Episode 1. "[She] was gonna be killed off in the pilot, then Judy Greer read for the part and I was like 'This is great, maybe you could not kill her?' and I was like, 'Done,'" says Reed. I know I couldn't say no to Greer, but it's a relief to know that Reed couldn't either. Cheryl is an incredible breed of whackjob and Archer wouldn't be Archer without her.
But part of what makes Nash and Greer's characters so incredible is all the incredibly filthy jokes they're the subjects of. "My parents are so proud. This is exactly what they thought when I said I wanted to be a theater actor all those years ago: that the animated me would be getting choked while having sex while someone was shitting in toilet watching us, that's totally normal," joked Greer when we spoke. But when I asked her if anything was ever too much or too far for her taste, she simply said, "No."
Nash is on the same page, adding that there's good reason for all that filth. "We get away with being dirty on the show because of how smart it is, so we earn our jokes," she says, adding, "We're not just being dirty for the sake of being dirty. It's so smart. And the comedy, I think, is not expected and you don't see it anywhere else."
And she makes a fair point. Cringing during Archer is kind of part of the experience. Mallory and Sterling constantly make racist remarks. Everyone says sexist things. And every last person at Mallory's agency (the agency formerly and unfortunately known as ISIS) is a terrible, awful, rotten person. But the writing is so smart and the characters are written in such a way that they evolve realistically while exhibiting completely unrealistic behavior. It's all rather amazing when it comes together.
And heading into Season 6, it's all still working — even after the "blown up premise" season that rocked the fanship. "It's just interesting that [Adam] continues to make the characters evolve," says Greer, hitting the nail on the head of why we keep coming back. "And they're just so fucking dirty," she adds. Okay, that too, Judy. That too.
Images: FX; Giphy (3)