You Should Be Watching This Right Now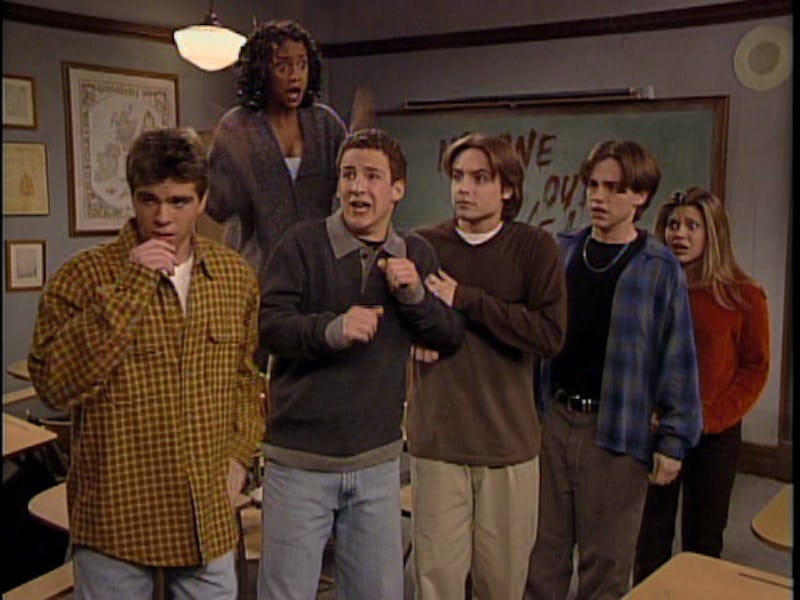 It's that time of year when every show you watch should have a Halloween theme to it. And one of the best themed episodes in all of my childhood was the Halloween episode of Boy Meets World . You know the one, all of the cast is locked inside the school running from a crazed murderer, picking them off one by one. Episode 17 of Boy Meets World Season 5, "And Then There Was Shawn," is easily one of the top five best episodes the series ever produced. I won't go into the other four, because that would be liking picking a favorite child. And while you should probably be watching this episode every month, just to remember your Boy Meets World-filled childhood, you should definitely have this episode on the docket for 24/7 viewing all October long.
This episode was the best for many reasons. 1) It was a terrifying homage to all of the best scary movies at the time (Scream, I Know What You Did Last Summer). 2) It had Jennifer Love Hewitt playing a riff on her character in I Know What You Did Last Summer, named Jennifer Love Fefferman. 3) There is that terrifying "jingle" that plays over the loud speakers of the school telling everyone they are going to be murdered... and as a impressionable viewer, that equals nightmares. 4) The killer was Shawn all along (sorry, but we are officially out of the "too soon" spoiler time frame). So how and where can you watch this glorious episode this year?
ABC Family
You can always count on ABC Family for showing the best holiday themed shows and movies. Currently, ABC Family is building up to the episode by showing Season 4, and will soon start Season 5, so "And Then There Was Shawn" should be shown this Halloween season. Check your local listings to see exactly when the episode will air.
YouTube
You want to watch it now? Duh. You can actually watch every single episode of Boy Meets World on YouTube, which should restore your faith in humanity.
iTunes
If you believe in the good fight, and want to spend an extra $1.99 on supporting Boy Meets World, then you can buy the episode on iTunes. It's the best way to assure you'll always have it at your disposal, and as I mentioned before, you should always have this episode at your disposal.
Images: ABC; FYeahBoyMeetsWorld, college-life-crisis/Tumblr