Thanks, Leslie, For Your Feminist Halloween Inspo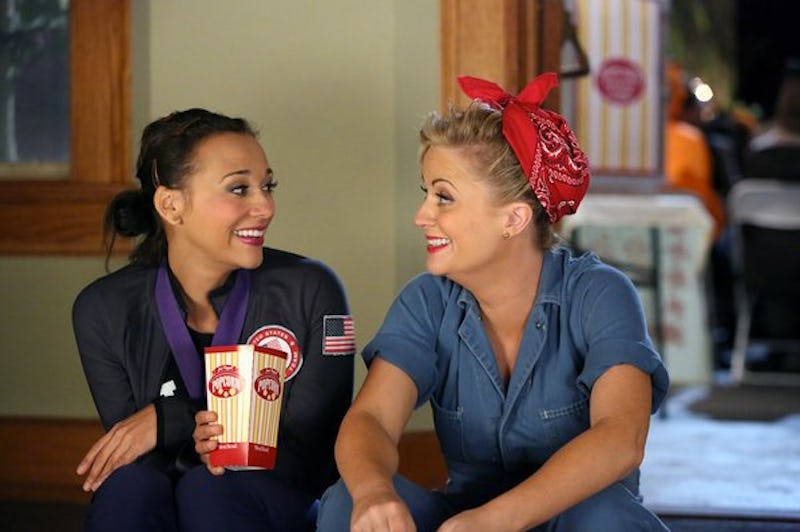 Seriously, is there anything better than watching your favorite TV characters take on the magical world of Halloween? There's no doubt in my mind that Halloween episodes are the best kind of episodes. There are just so many facets! First off, there's the weirdness of seeing fictional characters essentially dress up as other fictional characters. Then, there's the insight that comes along with the costumes the characters choose to don (I mean, how perfect is Buttercup and Wesley for Leslie and Ben on Parks and Rec?). Finally, there's the added glee when said costume turns out to be kind of cleverly meta (case in point: Mindy Lahiri as Diane from Cheers was totally an awesomely tongue-in-cheek nod to the show's rom-com homaging/lampooning).
So what could possibly make TV Halloweens even better? Well, feminist Halloween costumes, of course! In a wash of basic cat costumes and arguably-even-more-basic old cheerleader uniforms (I'm looking at you, Rachel Green), some characters go above and beyond the blah Halloween standbys and dress as some pretty inspiring ladies. Of course, it's not quite as common as one would hope it to be — it's usually up to TV's oddball nerds to take up the mantle — but, that said, here are some of the best!
1. Britta Perry as a Dinosaur
Okay, so Britta's feminist take on Halloween is a tad bit flawed — even though she's wearing her full-body dino suit in protest of the "sexy" Halloween costumes that run rampant, she's characteristically slut-shamey and tone-deaf about it. That said, A+ for effort, and I don't think anyone's looked quite as adorable as a dinosaur before.
2. Paige McCullers as Marlene Dietrich
It doesn't get much more badass than Marlene Dietrich.
3. Willow Rosenberg as Joan of Arc
These days going as Buffy Summers herself might count as a feminist Halloween costume, but on the show, it was Willow who was pulling out the stops. Buffy tended to go more the damsel-in-distress route, because hey: Girl deserved a break from being the knight in shining armor every once in a while.
PS: God and Joan of Arc might officially be the cutest couples' costume ever.
4. Spencer Hastings as Mary, Queen of Scots
Spencer's definitely got the mettle to masquerade as Mary, Queen of Scots, eh? As something of an underdog to 'A's Queen Elizabeth, it actually makes a lot of sense (let's just hope she gets to keep her head!).
5. Leslie Knope as Rosie the Riveter
Of course Leslie would go as Rosie the Riveter — and it's perfection.
Images: IMDb; Buffy The Vampire Slayer/The WB