Don't Worry, Morticia & Co. Are Coming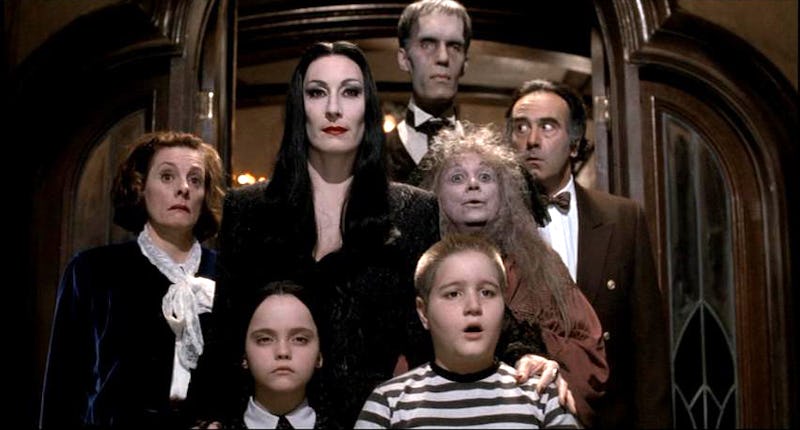 People love to complain about holiday decorations coming out too early — Thanksgiving in September, Christmas before Thanksgiving — but have you ever heard people complain about Halloween movies coming on to early? No. And that's because TV networks seem to have enough respect for the spookiest holiday to hold off until the only month spooky enough to host daily doses of the '90s classics and I, for one, can't wait to watch The Addams Family and Addams Family Values .
As a creepy little kid, I devoured episodes of the original Addams Family TV show that aired in syndication on TV Land (other favorites: Petticoat Junction and My Three Sons, because it's always important to keep a diverse portfolio). Imagine my delight when I found out there was also a movie starring Casper-anti-dream-girl Christina Ricci as Wednesday Addams. And then they made a second movie where Wednesday and Pugsley had to go to a hellish summer camp and totally stuck it to the man by sabotaging the Thanksgiving play with a revenge plot for the genocide inflicted on Native Americans. Of course, the films also pass the Bechdel test with flying colors, portray a passionate marriage, and feature viciously dark humor that I couldn't even appreciate until I was older.
Thanks goodness The Addams Family comes on every Halloween season for future generations and post-childhood viewings, then! Here's where you can catch it *snap, snap*
If You're Looking For the Original TV series, You'll Have to Look Far
While the 1991 and 1993 movies are easy to track down in October, the TV series, it seems, is even too old for TV Land now. You can at least watch individual episodes on Amazon Instant Video or order the complete series, though. But if that's out of your price range, you can always enjoy that gif of Wednesday showing Lurch how to get down anytime you want.
You Don't Have to Go to Blockbuster Video
I already loved John Mulaney's 2012 comedy special, New In Town, but the reference to calling a Blockbuster repeatedly to track down Addams Family Values as soon as it came out on VHS spoke to me on a spiritual level.
Thanks to technology and the passage of time, we no longer have to go through such pain.
Just Tune Into ABC Family Oct. 19-31
Every year ABC Family hosts their 13 Days of Halloween where families can sit down together and watch scary stuff all day long for 13 days. Drop out of school, quit your jobs, it's Halloween season! Starting on Night One (Oct 19) of the big event, you can watch The Addams Family at 9:00 a.m. ET/PT and Addams Family Values right after at 11:00 a.m. The duo will air again at 6:00 p.m. on Oct 25; 4:00 p.m. on Oct 26, 7:00 p.m. on Oct 29; and 4:30 p.m. on Oct 30. That should be plenty of time to put the finishing touches on your Wednesday Addams costume before the big night.
Images: Paramount Pictures, get-on-the-carousel/Tumblr; wifflegif