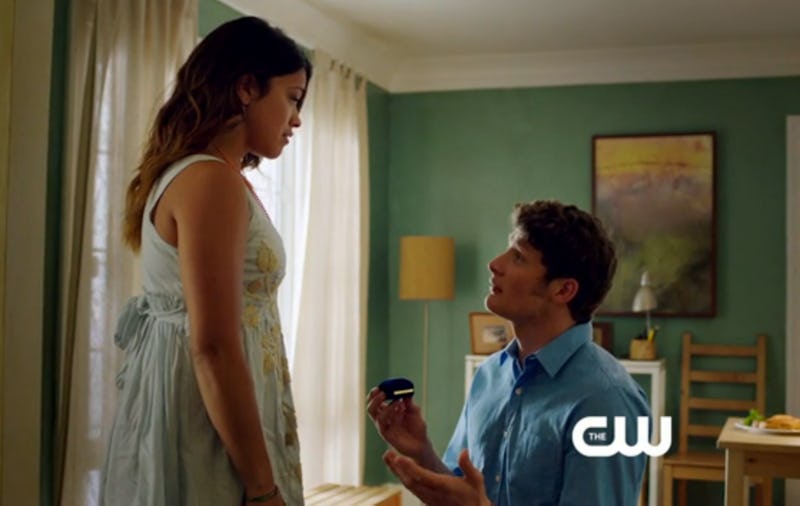 Monday night's series premiere of Jane the Virgin put the viewing audience's feet in a pair of metal stirrups and got right down to business: Jane is a virgin who was accidentally artificially inseminated by an OB/GYN, and now she's pregnant with the child of her boss/teenhood crush. But Jane isn't facing this bizarre, life-altering situation alone: She has a supportive mother, a supportive grandmother, and a supportive fiancé in her corner. But Michael the supportive fiancé might not be who he seems: Both the show's narrator and Michael's brother teased that Michael has some secrets. Some secrets Michael really doesn't want Jane to hear. What's Michael the fiancé hiding???
Michael seems like a nice enough guy, right? Sure, after he let the big news digest, he basically gave Jane an "it's me or the baby" ultimatum, which was yikes-worthy. I mean, I get that it's an effin' weird, incredibly complicated situation. But there's a difference between discussing what she'll do about the baby versus dropping an ultimatum on her doorstep like a flaming bag of poo poo, ya dig?
However, I stopped glaring at Michael through my television set when he accepted Jane's proposal redo and her decision to keep the baby. Aw, he didn't actually mean that ultimatum! He would've stayed by her side no matter what she chose to do! This proposal is so sweet! They're so cute together! What a good guy!
OR IS HE?!
His brother's weaselly words hovered over the episode. What could Michael's secret be? Some guesses:
Michael was hired by Jane's telenovela star father to find her, but Michael didn't mean to fall in love! Michael's brother is the only other person who knows, and that's why he pointedly asked Michael about Jane's father at the engagement party. ("What about when Jane's father confronted Xiomara at the end of the episode and said he only just found out about Jane?" you ask. Well, maybe he's pretending he didn't know about Jane all along. He is an actor, after all.)AND/OR:
Michael isn't actually a detective. The precinct where Jane proposed is a front for something more sinister. Something EVIL. (The CW does love a show with a supernatural element.)AND/OR:
Whatever Michael's secret is, it is so bad that it drives Jane away from him and into the arms of Rafael.
Ugh, I love a character with a secret.
Image: The CW