Meet Coach's Latest Lady on 'New Girl'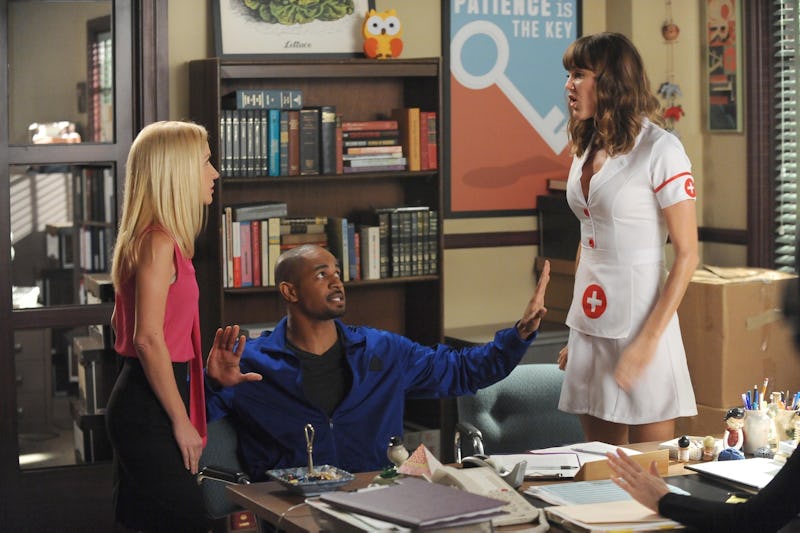 Fridays are great and all, but there's no better day of the week than Tuesday. Partly because it means Monday is over, but mostly because it means New Girl is on. Jess, Schmidt, and the gang have been killing it this season — because how good a line was "We're all covered in micropenises"? — and this week's installment is going to be just as amazing. This Tuesday, New Girl's welcoming another guest star: Erinn Hayes, who plays the nurse at Jess's school.
On the show, Hayes will be playing Ruth, Coach's love interest, and if you ask me, it's about time we got a solid Coach storyline. Except, of course, their love story is doomed from the start, because the school has a "no fraternization" policy, and if you think Vice Principal Day is the kind of boss who elects to look the other way to let her friends get away with breaking the rules, think again. It's her job to make sure their romance doesn't work out, and obviously, an adorable brand of hilarity is going to ensue. Because this is New Girl.
Anyway, if you think Hayes looks pretty familiar while watching the episode Tuesday night, you're right — you've seen her before. New Girl isn't Hayes's first trip around the TV block, especially when it comes to guest starring.
She Stars on Children's Hospital
If Hayes seems like she knows her nursing stuff, it's probably because she's used to playing a doctor on TV. In Adult Swim's Children's Hospital, Hayes is Dr. Lola Spratt. Another fun fact? Former New Girl alum Lake Bell (who played Nick's co-worker at the bar in Season 1) stars on Children's Hospital alongside Hayes. Wonder if she asked her for the lowdown on the set?
She Was a Prominent Guest on Parenthood
Even though I totally hated her the entire time she was on the show, because she played Raquel, Harmony's mom — aka the woman who tried to seduce Joel right out from under Julia by hosting playdates for Sydney with her daughter. Ugh.
And She's Been On Lots of Other Awesome Shows
Like Parks & Rec, Grey's Anatomy (although, let's be real, who hasn't played a patient on Grey's?), Will & Grace, Desperate Housewives... basically, Hayes has gotten to hang out with every celebrity I wish was my best friend.
And now, she's adding New Girl to her resume, and I can't wait to see the results. Go get your girl, Coach! Fight for that storyline!
Image: Ray Mickshaw/Fox; Adult Swim; Colleen Hayes/NBC (2)