'Rainbow Brite' Casts the Perfect Stars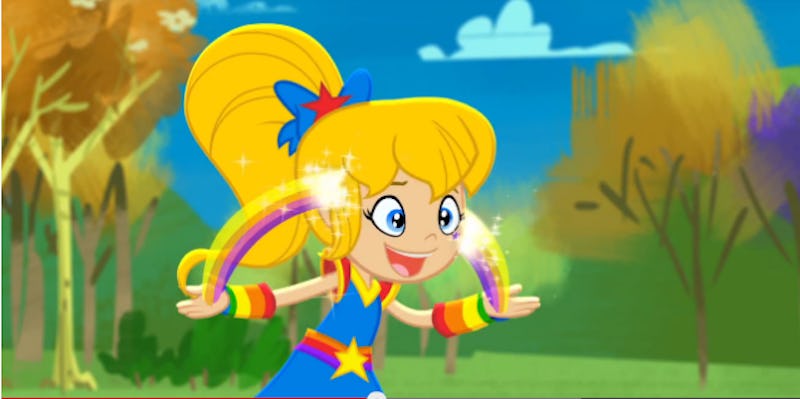 Teased hair, shimmery fitness pants, and blue eyeliner are all '80s trends that I prefer to remain the past. However, I am totally down to indulge in some nostalgia in the form of the upcoming Rainbow Brite reboot, because there's nothing like a little bit of optimism by way of a revamped '80s cartoon, right? Per The Hollywood Reporter, the animated series premieres on Nov. 6 on the Feeln network and will feature the voices of Emily Osment and Molly Ringwald. The former Hannah Montana star will voice the lead character, while Ringwald plays the part of the villain.Osment will likely help to attract a younger viewing audience who may not be familiar with the original Rainbow Brite series that was largely popular around the same time as My Little Pony and The Care Bears. Plus Molly Ringwald is synonymous with '80s films (if you're not up on her '80s movies, I command you to binge watch them immediately), so her involvement with Rainbow Brite is perfect. It's also right in line with Ringwald's role in the upcoming Jem and the Holograms film. Ringwald appears to be on some sort of '80s time loop when it comes to her latest acting gigs, but if anyone's chosen to help put a modern spin on a classic cartoon from that era, then she's an obvious choice.
For those who don't know, Rainbow Brite was sort of like an animated Punky Brewster with super powers, complete with a rainbow belt for spreading happiness and joy, but minus the sad abandonment back story or souped up treehouse. She sported a multi-colored outfit that include a fierce pair of space boots. Her pet horse Starlite could talk and get this — she had a freakin' star tattooed on her face. So yeah, she was pretty much the bomb.
Hopefully the new Rainbow Brite does a good job of updating the original without losing any of its zest. Check out the newly released trailer, which gives a few hints of what we can expect:
Image: FeeIn/YouTube