Rayna Needs To Sign Her Before Jeff Does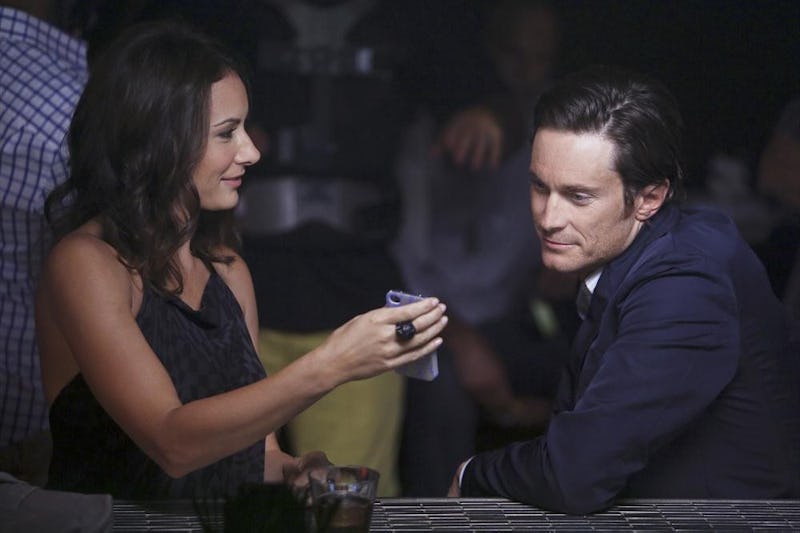 We've finally gotten our taste of Broadway's Laura Benanti on Nashville and the fun isn't stopping any time soon. Is Rayna going to sign the talented Sadie Stone? I sure hope so. Sadie seems to have a level head on her shoulders. She may be getting friendly with Jeff Fordham, but his snake-y ways are sure to reveal themselves sooner or later. We may not have heard Sadie sing yet on the show, but we can already speculate as to whose side she'll take. We all know that Highway 65 is the way to go.
According to the official ABC press release for the fourth episode, titled "I Feel Sorry for Me," Rayna is looking to sign Sadie Stone to Highway 65. "In order to woo her, Rayna invites Sadie out for a girl's day on the town, which she thinks may help to seal the deal." Since Sadie Stone is a self-professed Rayna Jaymes maniac (and not in the sickly sweet, fake way that we all remember Juliette putting on in the pilot), something tells me this technique is likely to work. TV Guide released a preview for the episode that shows Sadie helping Rayna escape the paparazzi in a flashy red convertible. "Oh I'm sorry," she quips. "If I'd known I was abducting Rayna Jaymes today, I would have brought my station wagon." Ha! I love this episode already. Then the scene becomes a high speed car chase. Did you ever think you'd see a high speed car chase on Nashville? What a fun way to bond.
Of course not more fun than playing Say Yes to the Dress with your idol. Hopefully Sadie won't think that Rayna is not being genuine or using her and therefore get scared off. This show needs a drama-free female friendship. And come on, Sadie, anything is better than Jeff!
And let's not forget our dear friend Layla. Will's miserable wife blackmailed Jeff Fordham last week by threatening to expose Will's sexuality. I'm having trouble keeping track of how many people are being blackmailed by the same secret. I feel like Jeff Fordham himself already blackmailed Will. Can you blackmail a blackmailer? Good grief.
Still, this may be enough to tie Jeff Fordham up so that Rayna can get her a new artist and a new friend. Will's album sales are dropping as is and Jeff can't afford to divide his attention. She's all yours, Miss Jaymes! It'll be nice to see Rayna have a storyline that's not all about corporate wedding planning and/or residual Deacon romantic angst. A day out with Sadie Stone may be beneficial to Rayna's soul as well as her wallet.
Images: Mark Levine/ABC (2); Giphy