They're Not Closing on Their Wedding Just Yet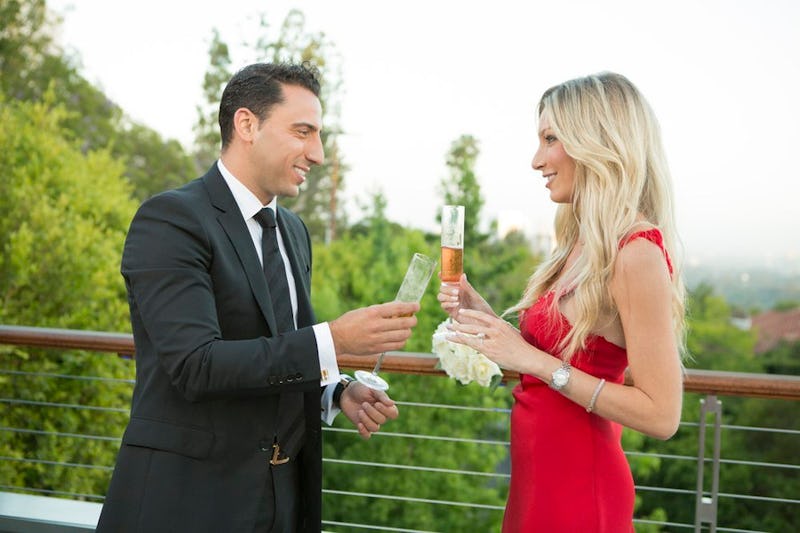 There's very little time for love when selling high-priced real estate on Million Dollar Listing: Los Angeles . So when the trailers for this season suggested that we will see Josh Altman and Heather Bilyeu break up, it wasn't very surprising, since they've been struggling to balance their new engagement with Josh's Altman Brothers business. Josh never has enough time to devote to wedding planning, and when he does show up at Heather's request, it's only long enough for him to make quick judgements on surface level things like tux rentals or cake. But is this really the end of their relationship?
Josh has a reputation to uphold as a shark — he's staked his whole career on it. But he should be able to kill it as an agent without railroading his wife on all of her decisions. Regardless of career, both partners need to get a say in decisions for a relationship to work. But Josh and Heather aren't splitting up — they're just putting off the wedding for the moment. They released a statement just a few days ago on Oct. 9 explaining why they've decided to step back and wait to get married. "We thought we could balance our jobs, the show, our lives and the planning but it was just too overwhelming and we decided to wait until we are done filming this season to get into it." If anything, they seem closer now. Josh even took enough time off of work to go on vacation to Greece.
Seems like they're trying to separate the Million Dollar Listing: LA version of Josh & Heather from their real lives. Because while it plays well on TV for Josh to show up late everywhere and be completely obnoxious about everything, presumably the resulting wedding would be a disaster.
Over the course of the season, their ceremony went from a small, intimate gathering with only a handful of family and friends to a huge event where Josh wanted to invite all of his most famous clients. Heather's frustration has been just barely concealed throughout the episodes. To me, it looks like she doesn't want to have a huge fight about this on camera, but she just as badly doesn't want her entire wedding and now, living situation, to be dictated by Matt Altman.
I hope that while they're waiting, Heather realizes that marrying Joshua Altman is signing up for a lifetime of watching him put on sunglasses and point finger guns at himself in the mirror every morning. Or at least on mornings when he's filming Million Dollar Listing.
But if she can deal with that on a regular basis, they should be able to get through anything else that comes their way.
Images: Isabella Vosmikova/Bravo; Giphy