'The Mindy Project' Did The Right Thing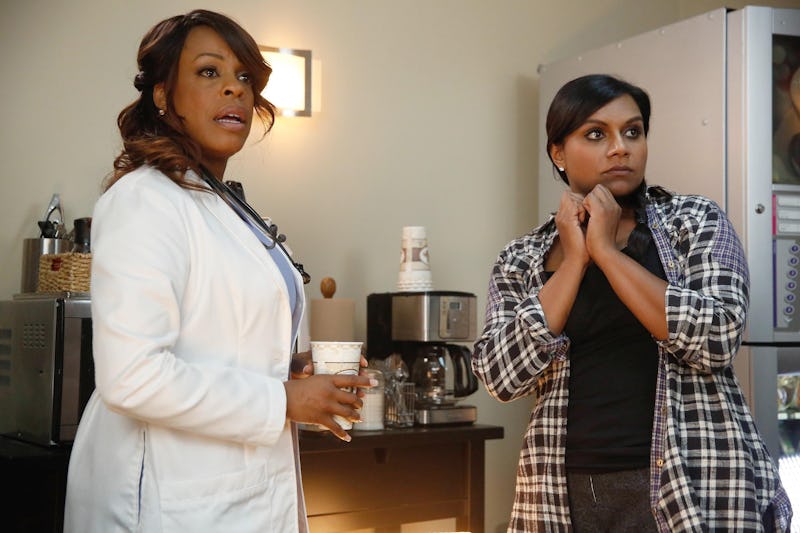 It was a kind of weird week last week for The Mindy Project as they tackled the subject of consent and unexpected anal sex (how's that for a first sentence?). So when Tuesday's episode looked like it was going in the direction of Mindy pretending to be a lesbian — a la, Faking It — I was a little worried. Luckily, this week Mindy handled the entire situation in the most un-Mindy way possible (and I mean that in a good way), and only semi-managed to create an incident.
The new chief of the hospital, Dr. Jane Fishman played by Niecy Nash, immediately didn't like Mindy and her coworkers when they showed up late to a hospital wide meeting. It certainly didn't help when Mindy's phone started ringing with "Fancy" playing, but that happens to all of us. So Mindy plans to take her new boss out for a night on the town, which seems to go really well, until Jane misreads the situation and kisses Mindy, square on the lips.
So when Mindy tells her coworkers what happened, Jeremy suggests "Can't you just pretend to be a lesbian?" No, please don't go down this road. But then Danny suggests Mindy just tells the truth. Yes! Yes, Danny! You speak those beautiful words of truth.
Why would Mindy lie about being a lesbian, just to keep her practice happy? That is such a bad idea, and I was so worried that they would go down that road. But surprisingly, they didn't! Mindy went to her boss and told her straight up, "I am straight," along with apologizing for sending any incorrect signals during their night out that lead to the kiss. That's when Jane's wife, Debra, hears everything and basically goes WTF?
But the point here is that the truth will set you free. And off of a week that was all types of uncomfortable, it was nice to see that the show actually did the right thing.
Images: Jordin Althaus / FOX