Here's How to Bring the Outdoors Inside This Fall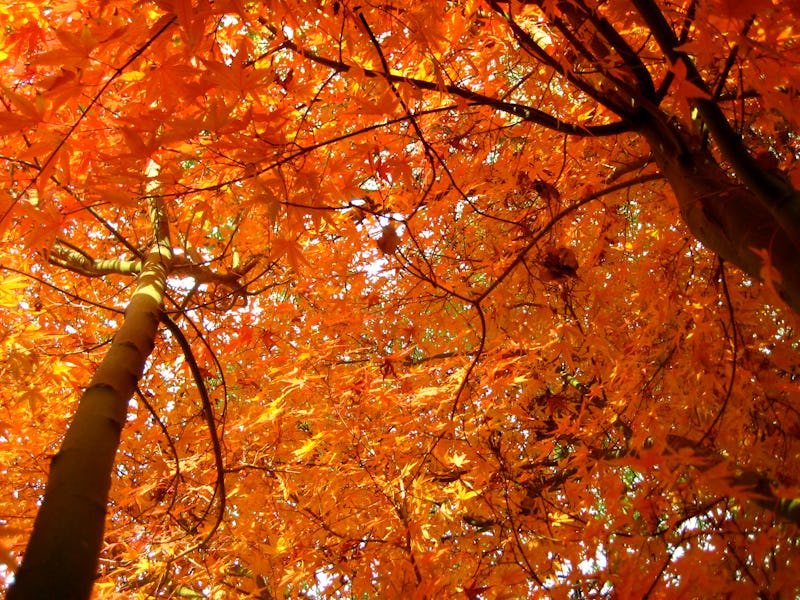 There is really nothing quite like being outside on a beautiful fall day, sipping the perfect pumpkin spice latte, and wearing your best flannel long-sleeve with leggings and knee-high camel-colored riding boots. Fall may be the home of basic bitches, but lest we not forget, it's truly the season for every layman and woman. Gorgeous foliage, crackling fire-pits, jaw-dropping, traffic-stopping sunsets, apples ripe with the season and ballooning off trees, and pumpkins taking up residency in barren, sweeping fields lush with greenery — you wish you could bring the outdoors inside with you. Because no matter which direction you turn, fall is happening all around us — and the sights are absolutely breathtaking. Fall > every. other. season.
Fall is just something different. It's filled with color. Personality. Sass. There's a reason writers cling to fall. It's a rebirth. Even though our elementary school days are long gone (depressing), fall always feels like back to school. A return to. An excuse to buy supplies that our office probably stocks for free. And the colors outside, those sweeping, miraculous, and mystifying shades and hues, are the ones we want to recreate indoors — because pretty soon the temperatures will dip so low that we'll be more comfortable gathering around the fireplace than we will the backyard pit.
So how do you merge the outside world with the indoor one?
It's pretty easy. Bring the outdoors inside this fall with these five, simple decorating tricks.
1. Keep it natural
A.K.A. keep it simple. The reason you probably love fall is because everything just feels so honest and serene. It's one of the only seasons that feels exactly how it looks. So don't turn away from keeping it real inside your home. Instead of plastic fixtures, try going green. The easiest way to do it? Fill your space with chic wood elements.
2. Make it warm
The colors you pick to paint, accent, and decorate your space speak volumes about the vibe of your room. Since fall's all about rich, decadent shades of husky browns, golds, oranges, and reds, mimic that when it comes to profiling your space — especially the rooms you'll have company in.
3. Go hunting for hidden treasures
Who says what you find outside has to stay out there? To get that earthy feel all over your pad, stockpile some of nature's best treasures inside. But that doesn't mean you should dump dirt all over your living room or coat your bathroom in moss — a few seasonal stems showcased in a pretty vase will do the trick.
4. Let there be light (while there's still plenty of it around!)
This season is all about rebirth, so don't feel slighted to keep things as-is just because you've always done it that way. Let the natural light pour in while there's still time to enjoy it, because soon enough winter will snatch away every last drop of sun. So ditch the drapes, and keep your room feeling light, k?
5. Play with your fruits and veggies
Grandma and Grandpa might not have allowed it at the dinner table, but we definitely are. Don't be afraid to decorate with pumpkins, gourds, squashes, root veggies, and apples. They may taste good, but they look even better.
Images: Chet3, Maureen Didde, Premier Photo /Flickr; Crate&Barrel; Pottery Barn; Benjamin Moore