'Friends' Is Coming To Netflix, Holy Crap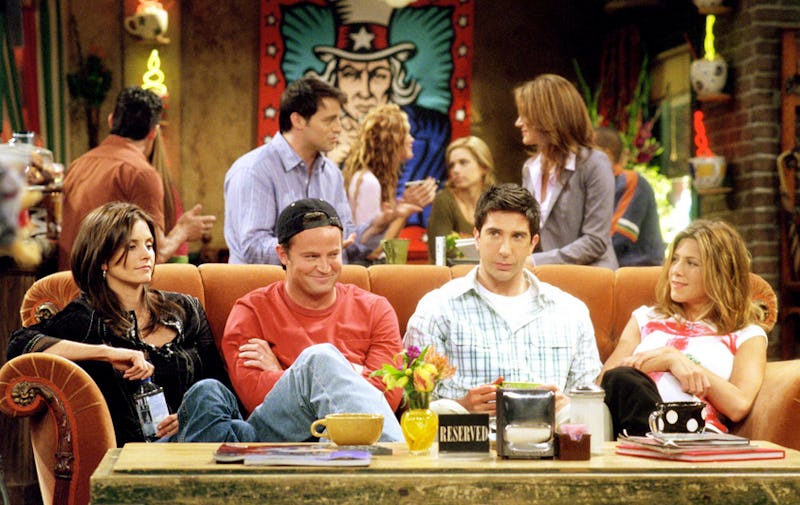 Holy crap. This one's a game-changer: Friends is coming to Netflix. Forget that Simpsons marathon and its apocalyptic undertones, this is what will have the masses calling in sick to work and neglecting all responsibility. Ten years of Friends, right at our fingertips. CNN reporter Brian Stelter tweeted from a Time Warner event: "Breaking: every episode of Friends is coming to Netflix in the U.S. and Canada -- just announced at $TWX's investors event."
Gilmore Girls already made a splash when it made its Netflix debut October 1, bringing an underrated gem back in full nostalgic force, but there's no doubt Friends is the icon here — and the one that never really got a chance to fade from public memory. Episodes have long been available at any hour of the day through intense syndication — Nick At Nite and TBS can always be counted on to be running a Friends episode, but never has Friends been so immediately accessible to the millennial sensibility: every episode of every season, available whenever you want it.
On your phone, on your computer, on your television, too. Feelin' blue and need to rewatch Monica and Chandler's proposal to each other without the intervention of crappy YouTube clips? It's right there for you. Need to relive Julia Roberts' guest appearance and remember what the world looked like in 1996? That's right there, too.
It's all right there. How will we ever get anything done? Friends hits Netflix January 1, just in time to help you immediately shirk all your New Year's resolutions.
Image: NBC