Stephen King's Mind Must Be a Scary Place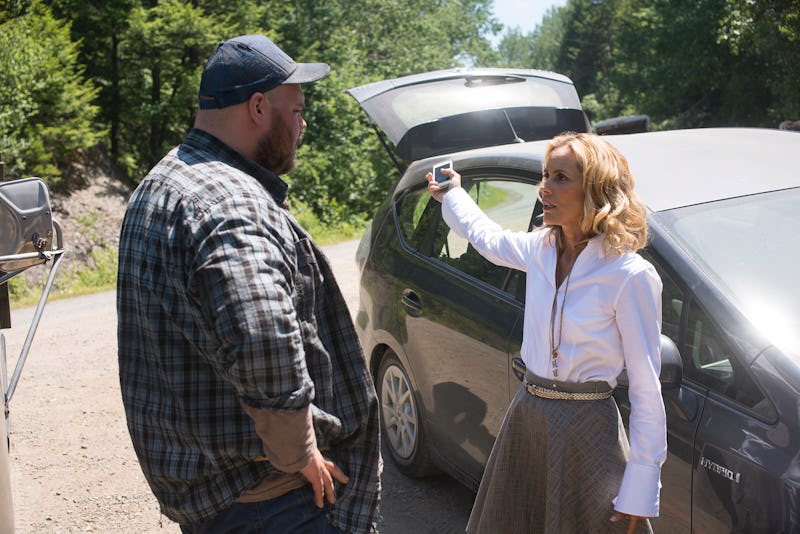 Lifetime's latest TV movie comes from a Stephen King short story about a successful author, Tess Thorne (Maria Bello), who gets in some car trouble and is then brutally attacked. It's a harrowing tale and it made me wonder if Big Driver was based on a true story. Thankfully, not. Like King's Secret Window before it (which Bello also starred in), Lifetime 's Big Driver shows a novelist slowly losing her grip on reality and the audience doesn't completely know exactly what's real and what isn't. And although King was inspired by an event that happened in real life, the story is a fabrication.
On his website, King said that the idea behind the story "Big Driver" came from the following experience.
In 2007, while traveling on Interstate 84 to an autographing in western Massachusetts, I stopped at a rest area for a typical Steve King Health Meal; a soda and a candybar. When I came out of the refreshment shack, I saw a woman with a flat tire talking earnestly to a long-haul trucker parked in the next slot. He smiled at her and got out of the rig.
"Need any help?" I asked.
"No, no, I got this," the trucker said.
The lady got her tire changed, I'm sure. I got a Three Musketeers and the story that eventually became "Big Driver."
Seriously, King?! I sincerely hope he didn't get any actual bad vibes from that trucker at that real rest stop and instead just let his imagination run wild from that simple exchange. (Though it would make me feel 100 percent better if I could talk to the woman who had a flat tire and confirm that she's just fine.)
Speaking as someone who also tends to turn a seemingly innocent interaction into something awful in my own head, I can understand how King would just take that tiny moment and spin it into something disturbing. (I blame my penchant for thinking that I'm going to get assaulted at any moment partly on my being female, partly on my father being a police officer, and partly on the freaky stories that people like King create.)
In Big Driver, King did milk that small experience to feed the details of the movie. The film starts with Tess, the author of the popular book series The Willow Grove Knitting Society, going to a speaking engagement. To get there, Tess takes highway 84 which the organizer of the event, Ramona (portrayed by Ann Dowd — who is everywhere nowadays), claims is the worst highway in America. (I've taken 84 many a time — it's not that bad.)
After her speech, Ramona gives Tess an alternate, scenic route to take. Could the devoted fan have actually helped coordinate the horrible things that happen to Tess later in Big Driver? I definitely was suspicious of Dowd immediately, but I chalk that up to her role in The Leftovers.
You'll have to tune into Lifetime yourself to see what happens when Big Driver premieres on Saturday, Oct. 18 at 8 p.m. I must warn any prospective viewers that I struggled with watching the vicious crimes that are committed to Tess, but if you can stomach the sexual violence, you'll be able see if the author successfully exacts her revenge. And I was just very happy to know that this story came from King's imagination and not real life.
Images: Chris Reardon/Lifetime; gitana1437, harlequinnade, celebritiesandmovies/Tumblr