Donnie Wahlberg Want to Have Coffee With Who?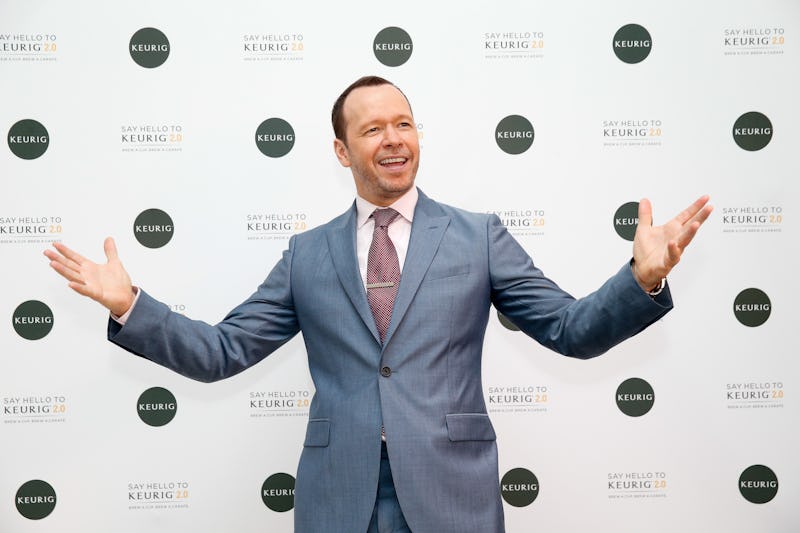 It's official: Donnie Wahlberg loves his coffee. It's the first thing that the Blue Bloods actor admits during our phone call: he's a little hyped up on caffeine from one-too-many cups of Joe. It's fitting, considering that Wahlberg is currently the ambassador for Keurig's "Say Hello With Keurig 2.0" campaign, a project that will bring people together over — what else? — Keurig brewed beverages. From Oct. 15 to Nov. 8, people can go online to HelloKeurig.com to enter for a chance to win a coffee date in New York City with Wahlberg himself — or, if they'd rather, an old friend. Wahlberg discusses his passion for the project in our interview, stating:
"[The "Say Hello With Keurig 2.0" contest] is the ultimate contest for me to be a part of because this is the stuff that I love to do. Meet people, have coffee, have lunch, meet fans, connect with people... It's really something that I love to do spontaneously, so to have someone want to partner up and do it on a bigger scale is really exciting for me."
And don't worry — giving up your chance to have coffee with Wahlberg in favor of reconnecting with a friend or family member won't snub the actor. The contest winner will still get to meet the New Kids On The Block singer, who plans on hanging out at the event regardless. When asked who Wahlberg himself would choose to have coffee with, the actor says that he'd most like to share a cup with Hillary and Bill Clinton — and maybe get some clues as to whether the former is going to run for President in 2016. Hillary might be interested in joining Wahlberg for coffee for a very different reason — according to the actor, she hasn't missed an episode of his CBS series Blue Bloods.
The possible future President of the United States may love Wahlberg as a TV actor, but there are a lot of reasons to be a fan. In addition to his acting career, he's currently a reality star — the Season 2 finale of A&E's family reality show Wahlburger' s aired on Oct. 8 — and a card-carrying member of New Kids On The Block, whom most recently had a four-night concert series in Vegas in July of 2014.
While 90s kids adore him for his smooth voice, horror fans might appreciate Wahlberg's screams, which they have heard coming from the big screen for quite some time now. Wahlberg has had a surprisingly prolific career in movies that haunted your nightmares as a kid, among them the Academy Award-nominated supernatural thriller The Sixth Sense — his first film role and one in which he lost a whopping 40-plus pounds to play — and his fan-favorite role as Detective Matthews in the second, third, and fourth film of the Saw franchise. Though the torture-heavy Saw flicks may depict some highly disturbing stuff, Wahlberg insists that behind the scenes, the cast was having a blast, cracking up between even the bloodiest takes.
"Whenever anyone would stop screaming on set, the whole cast would bust out into laughter... When you're making a horror movie, you can't take it too seriously... it'd probably freak me out too much [if I did.] There was a lot of camaraderie and a lot of fun."
Though Wahlberg is perpetually juggling his many careers (he jokes that he can't remember the last time he's had a real weekend), one thing that Wahlberg won't sacrifice is time with his family, which now includes his wife, former View panelist Jenny McCarthy. Their favorite way to unwind? Sipping on hot chocolate, brewed in one of the couple's many Keurigs. Because sometimes, no matter how busy you are, it's nice to just sit back, catch up, and connect with people you love.
Image: Greg M. Cooper/Keurig Green Mountain; Getty Images (2); Lionsgate