The Caddy Girls Have Expanded Their Business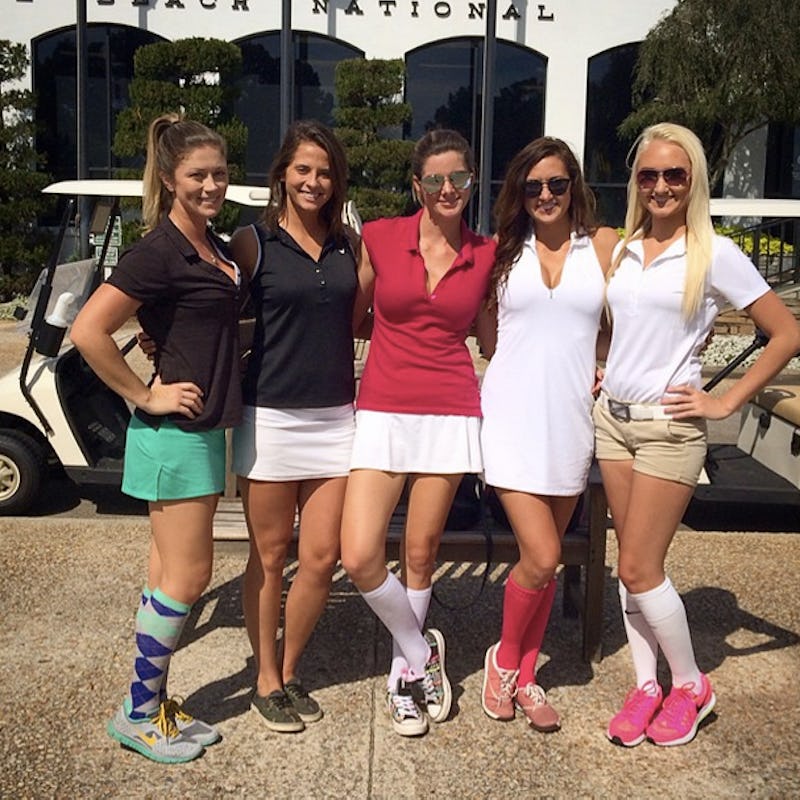 Most of the time on Shark Tank , we see entrepreneurs pitch their latest gadget and gizmo. However once in a while, someone comes on the show hoping one of the sharks will invest in something a bit less tangible: a service. From a boot camp workout for kids to a haunted hayride, sometimes what appears on Shark Tank is more of an experience than an object. That is definitely the case with one of the pitches on Friday night's episode, The Caddy Girls.
The Caddy Girls is a service that provides golfers with beautiful women to caddy for them on the links. Instead of having a teenage boy lugging your golf bag around to all 18 holes, a woman wearing short-shorts and argyle knee-socks can assist you. I can't imagine the male gaze happening at all when The Caddy Girls show up on Shark Tank. Try to act appropriately, guys.
Clearly, The Caddy Girls will try their best to sell their appearance-based product to the sharks, but if there's one thing I've learned from watching Shark Tank over the years, it's that truly successful businesses need to dig a little deeper. So do The Caddy Girls have what it takes to score a hole-in-one with the sharks?
You can hire a Caddy Girl now
If you think a pretty woman will help lower your handicap, you can hop on over to The Caddy Girls official website right now and book yourself a helper. They're currently available in 14 states, including Arizona, Massachusetts, and South Carolina, where the service started. An 18-hole game will cost you $149, nine holes costs $89, and tournament pricing is available upon request.
They really know golf
Though I doubt the pitch will emphasize this as much as the Caddy Girls' appearances, they really do know a nine-iron from a putter, which is definitely more than I can say for myself. All of the members of The Caddy Girls are certified or in the process of being certified by the Professional Caddies Association. "We are the BEST and ONLY- We only hire the smartest, most outgoing, and attractive girls- we are NOT an online database hiring just anyone," The Caddy Girls website says. OK, not sure what they are the "BEST and ONLY" of, but the words are in all caps, so they must be true.
It is owned & operated by women
At least this isn't some Hugh Hefner-type situation. The Caddy Girls was created in 2005 by Meg Tarmey, who started the company to help pay for her tuition at Coastal Carolina University. Tarmey is also a model and actress, but maybe with help from the sharks she can devote all her time to her business.
The Caddy Girls is also a modeling agency
Tarmey also owns The Caddy Girls' sister companies Gin Gypsies, which provides models for bars, and the modeling agency Smart Models, so The Caddy Girls staff is always ready to hand you a club as well as strike a pose. They also sell a calendar every year that has The Caddy Girls wearing outfits that no one could realistically play golf in.
They have famous clients
Anyone can book a Caddy Girl, even celebrities. The Caddy Girls have caddied games for celebs such as Alfonso Ribeiro, Hootie and the Blowfish's Darius Rucker, and Jeffrey Donovan from Burn Notice . OK, so these are more like C-listers, but famous folks nonetheless.
All I want to know now is what Barbara Corcoran thinks about these ladies.
Images: thecaddygirls/Instagram; sharktankgifs/Tumblr