This Vegan Menu Is Taking Over the U.S.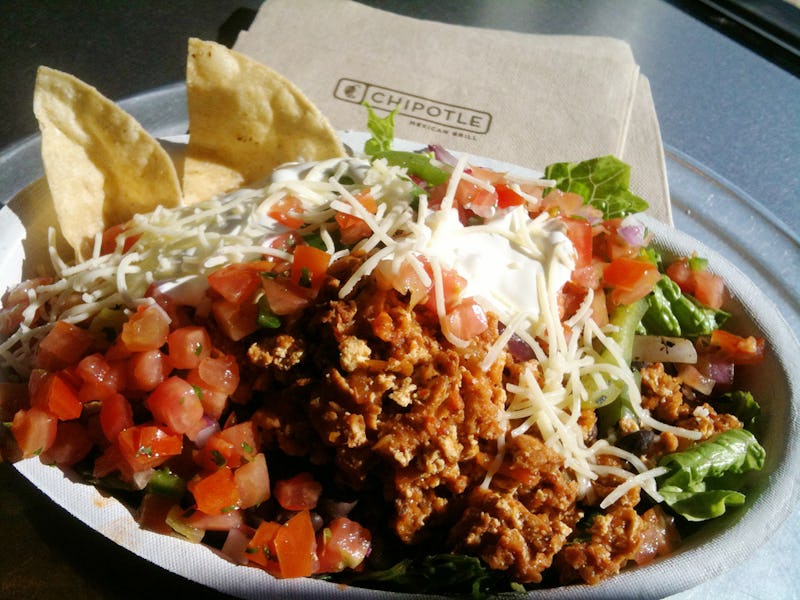 Did you guys know that there's a vegan Chipotle menu option called "Sofritas"? I didn't, but apparently they've been rolling it out at select locations over the course of 2014. The reason I finally found out about it? It's finally expanding, having become a permanent part of the menu at Chipotle locations in a whole bunch of states on October 13. Next up: THE WORLD!... Or, y'know, the rest of the U.S.
In any event, it's good news for any non-carnivorous folk who have never before been able to experience the Chipotle way of life. According to a press release, the early Sofritas test launches in California, Colorado, the Pacific Northwest, Chicago, and a handful of East Coast cities were a great success; in fact, the vegan option was so well-received that it made its way onto the permanent menu in both New York and Boston earlier this year. Clearly I haven't been to a Chipotle for a pretty considerable amount of time — if it's already been in New York for a while, you'd think I would have noticed it by now, wouldn't you? I lose. Oh well.
In any event, Sofritas also debuted in Chipotle locations in the following nine states this week:
Texas
Louisiana
Arkansas
Alabama
Tennessee
Florida
Georgia
North Carolina
South Carolina
Officials say it'll be a fixture of all U.S. locations by the end of the year.
But here's the big question: What exactly is it? As you might guess, it's tofu-based — but there's more to it than just that. After it's shredded, the tofu is then braised with chipotle chilis, roasted poblanos, and a blend of spices. The idea, said Chipotle founder, chairman, and co-CEO Steve Ells, was to make something that would "appeal to vegetarian and vegan customers, but that was delicious enough to have crossover appeal as well." Not going to lie: I'm as carnivorous as it comes, but it does sound pretty tasty. It takes its name from "sofrito," a combo of peppers, onions, sautéed garlic, and tomatoes used in a number of Spanish and Latin American dishes.
According to the Chipotle nutrition calculator, Sofritas is a little bit healthier than the meat options; if it's used in a burrito, it clocks in at 145 calories (the meats range from 165 calories for the Barbacoa to 220 for the Carnitas). It might not be the most cost-effective choice, though: Emily Cohn over at the Huffington Post compared her usual vegetarian Chipotle order — a burrito bowl with brown rice; pinto beans; fajita veggies; tomato, corn, and tomatillo salsas; sour cream; cheese; and guac (no meat) — with a Sofritas order, and found that the latter was more expensive. Apparently if you order a burrito bowl without meat, guacamole comes at no extra charge; as such, her usual order costs $8.50 including tax. Sofritas, however, costs the same as chicken, and the guac is extra — bringing the whole thing up to $10.75. If money is no object, then by all means, get yourself some Sofritas; if you're on a budget, though, know that there are cheaper ways to eat veggie at Chipotle.
As much as I write about fast food, I don't actually eat it that frequently — but the next time I'm at a New York Chipotle, I might give Sofritas a shot. Anything's worth trying once, right?