21 Funny and Punny BFF Costumes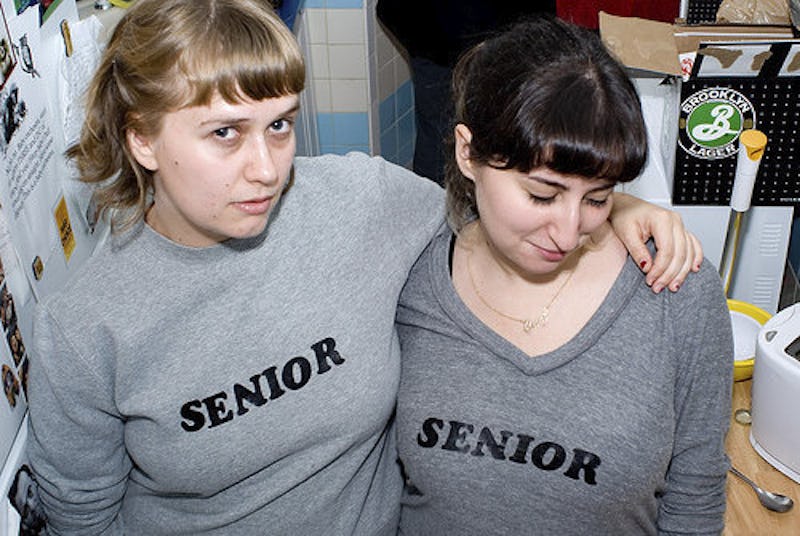 For some people, Halloween is just another day (a day when they run around in their panties and call it a "cat costume," but still, just another day). But for a pair of hilarious BFFs, Halloween is so much more: It's the day you and your bestie get to parade around in coordinated funny best friend Halloween costumes and, for one night, be hailed as the queens of comedy that you so rightfully are. For you, Halloween isn't about drenching yourself in fake blood, or body glitter, or fake blood and body glitter. Instead, it's about freedom from inhibition, and creativity, and costumes that need to be explained to literally every other person at the party, especially if you and your friend are standing more than two feet apart from each other. And it rules.
So, in honor of all you sass-mouthed best friends out there who can't seem to find last year's Bridesmaids costume, here are 21 funny best friend costume ideas that celebrate both your loving, supportive friendship ... and the fact that most of said friendship consists of you guys quoting Parks and Recreation episodes to each other. Now go out there and take all those vampires, zombies, and Sharknados to school!
BARISTA AND COFFEE
"No, this isn't a cute costume. I actually drank so many pumpkin spice lattes, I became a pumpkin spice latte. It's not funny. It's a really serious medical condition. I have to go see a specialist in Santa Fe next week."
TOBIAS AND LINDSAY FUNKE FROM 'ARRESTED DEVELOPMENT'
The least-watched, but most critically-acclaimed costume at any party.
COLONEL SANDERS AND A BUCKET OF CHICKEN
[Insert terrible, dad-style joke about "drumsticks" here.]
WAYNE AND GARTH FROM 'WAYNE'S WORLD'
I have personally pulled off a Wayne and Garth, and let me just say: it's easy to do, and saying "schwing!" stays fun for the entire night.
BINDER FULL OF WOMEN
I know this reference is kind of old, but is there ever going to be a time when this is not a funny costume idea, or when people will not know exactly what this costume is supposed to be? I highly doubt it.
TINA AND LOUISE BELCHER FROM 'BOB'S BURGERS'
For serious Tina Belcher realness, you'll probably want to bring a binder of erotic friend fiction, and/or some kind of inflatable butt to grab all night.
LETTING THE CAT OUT OF THE BAG
Be prepared for the one jerk at the party who'll say "You totally couldn't fit into that bag."
TRAM FROM 'JURASSIC PARK'
How many drinks will it take you to start crashing these cars into people and yelling about velociraptors? Zero. It will probably take you zero drinks.
BLACK EYED PEAS
Fergaliciousness is most definitely not included.
TAMPONS AND AUNT FLO
For BFFs who glory in making "surfing the crimson wave" jokes all month long.
SHELLEY AND RANDY MARSH FROM 'SOUTH PARK'
These kind of costumes are the golden ticket of Halloween get-ups — the massive amount of energy you put into the mask distracts everyone from the fact that the rest of your costume is just whatever you wore to the gym before coming to this party.
CHICK MAGNET
When you're separated, you're still a giant chicken or a giant magnet, which are still pretty fun costumes on their own.
FIREFOX AND SAFARI
When Internet Explorer was like, "Hey, you guys doing anything for Halloween?," we were all, "Uh, no, just planning on a quiet night in."
CHUCK AND WILSON FROM 'SURVIVOR'
Make sure your pregnant friend has a good sense of humor before you ask her to be the volleyball, though.
A PACKAGE OF NERDS
When someone makes a comment about this being a pun costume, look really offended and stomp off. Come on! It'll be fun!
FLO FROM PROGRESSIVE INSURANCE ADS AND MAYHEM FROM ALLSTATE ADS
I know that a few years ago everyone was dressing as Flo, and then nobody was dressing as Flo, but I think when you pair her with another comedic insurance mascot, you get pure magic.
'CURIOUS GEORGE' AND THE MAN IN THE YELLOW HAT
Yeah, you don't have to carry your friend all night ... but you don't have to win the costume contest either. Put some elbow grease into this, man!
PINHEADS
Bowling and puns are the two greatest American passtimes, and I'll fight anyone who says any different!
SIMONE AND DARLA, The Senior Girls from 'Dazed and Confused'
Air raid, freshman! This was a costume my BFF and I pulled off to great effect back in my brunette years. Also, if you have never seen this movie, go out and rent Dazed and Confused immediately, and watch your life instantly improve ten-fold.
TOTALLY CORNY
I don't write the jokes, guys, I just deliver them to you.
TOM CRUISES
Having two Tom Cruises at a single Halloween party is the riskiest business of all, am I right?
Images: Giphy