Steal Mrs. Clooney's (Exact!) Wedding Day Style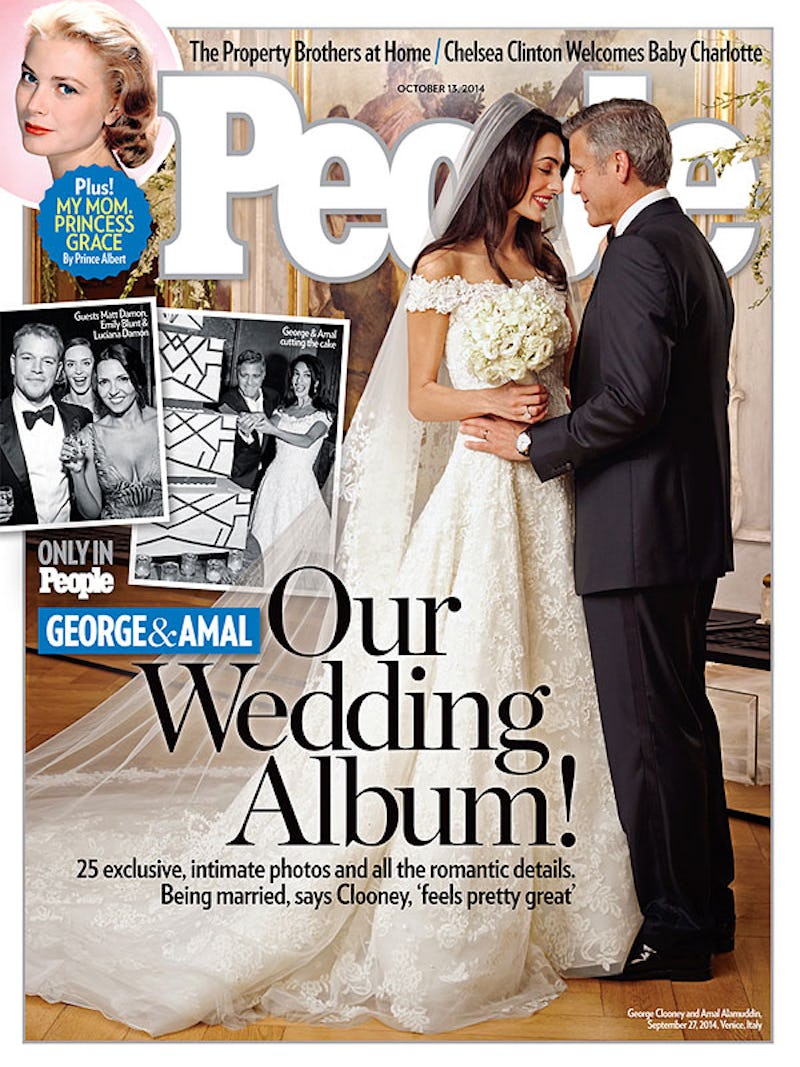 Ever wanted to look just like a celebrity on your wedding day? And I'm not talking a knock-off, look-a-like version of their dress, I mean the real thing. Well, today is your lucky day. Amal Alamuddin's wedding dress will be for sale at Bergdorf Goodman, so you can look as stunningly glamorous as Mrs. Clooney at her Venice wedding. If you have $25,000 to spend on a dress. NBD.
Though the new bride's dress was custom, a basically exact version of her gown popped up in Oscar de la Renta's Fall 2015 bridal collection. The only difference between the two dresses are the length of the train and beadwork on the bodice. Which effectively negates the need for a custom dress, so I'm kind of wondering if she feels ripped off in all this?
The gown that will be available for purchase is off-the-shoulder and made of Chantilly and lyon lace, with a fleur lace overlay and cathedral length train. Basically the epitome of Hollywood royalty. Alamuddin had told Vogue that she wanted her wedding to be both romantic and elegant, and her dress certainly reflects that timeless, classic glamor, so if your piggy bank is full enough, you can look just like an A-lister on your big day.
But if looking like a princess (Disney or otherwise) isn't really your thing, don't despair, because Bridal Fashion Week has shown a slightly edgier take on wedding fashion. Crop-top and slitted wedding dresses are appearing all over the runways, proving that your wedding day doesn't have to look like something out of a storybook. Maybe more like a classy Coachella?
So whether you fancy a classic Hollywood elegance or want to dare to show more skin, 2015 seems a pretty exciting year to be a bride.
Images: Oscar de la Renta/facebook; Getty Images (1); People Magazine