'The Millers' Season 2 Has A Lot To Live Up To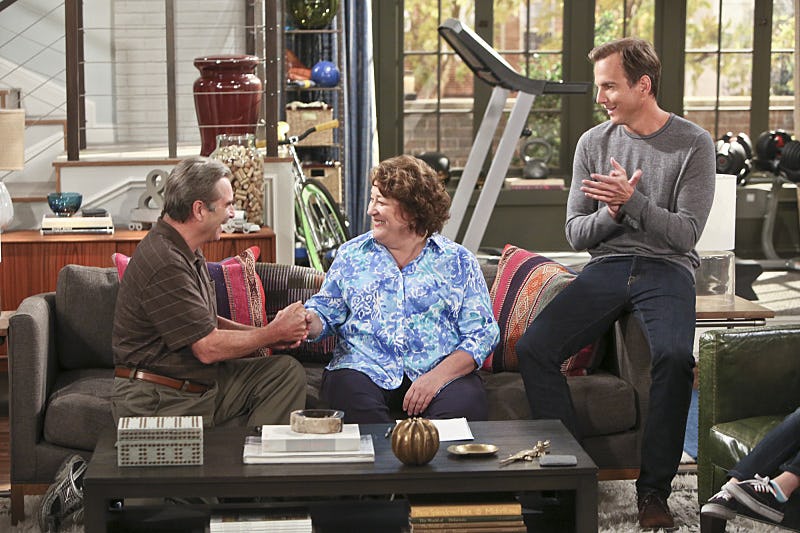 In the broadest sense, the first season of the CBS comedy The Millers is about family and divorce. It explores the difference between the love that keeps this little family of four together, and how getting divorced from someone can be liberating if you're no longer in love. It's also a broad, three-camera comedy with a lot of fart jokes and scenes about parents being embarrassing because they have sex. But the cast is so good that it's easy to look past some of the staler comedy material to the core of what makes the story tick — the emotions, which I hope we see more of when Season 2 premieres on Monday night.
The show opens with two divorces: Nathan, played by Will Arnett, is a middle-aged newsman who's almost excited about his months-old divorce. He wants to get back on the dating scene, meet new women, and go out on the town with his cameraman. But he's shocked when his older parents, Carol and Tom — Margo Martindale and Beau Bridges — take his announcement as the inspiration to also announce their divorce after returning from a trip.
Once the elder Millers split up, each parent moves in with one of their adult children. Martindale's character moves in with Nathan, putting a damper on his plans for casual sex and barhopping, while Bridges' character moves in with their adult daughter, Debbie (Jayma Mays, formerly of Glee), disrupting her happy marriage and family life.
Throughout the season, Tom and Carol's divorce drags things out of Debbie and Nathan that have laid dormant for years. Nathan is forced to reach closure with his ex-wife (Eliza Coupe, sadly still without a home since the cancellation of Happy Endings). Debbie struggles to remain secure in her marriage, often letting small details from Adam's past, like how he wrote a love song for a high school girlfriend, psyche her out about whether or not Adam really loves her.
Multiple times, Nathan accidentally shares his parents' point of view with his workplace and ends up putting them on the air for a week. All of the different characters — Tom, Carol, Nathan, Debbie, Adam, and sometimes Ray, Nathan's best friend — had a moment where they were able to bond, whether it was Carol and Adam driving around town together or Debbie and Nathan trying to Parent Trap their parents to get back together.
The show isn't incredibly serialized, but as the season went along, both Carol and Tom started to become comfortable dating new people. Tom had surprisingly good luck landing much younger women, especially when he uses a fake spy identity. Carol accidentally ends up seducing Nathan's boss, and has to figure out a way to let him down gently without Nathan losing his job. But after a Christmas episode where both the parents and Nathan and his ex-wife have to pretend to still be together, everyone agrees: being divorced is better for both relationships.
One of the biggest changes on tap for Season 2 is that they're adding even more great actors to the cast. Sean Hayes is joining as Kip, the manager of Shrugging Pines, an "active senior" home. Nathan encourages Carol to move there so he can get some peace and quiet in his own home, but according to Sean himself, Kip might make Nathan jealous when he becomes close to Carol, acting like a surrogate son when she already has Nathan.
No matter what kind of comedy you like, be thankful for The Millers. It's solid family comedy, if that's your jam, and even if it's not, it paves the way for Arnett to do smaller things like BoJack Horseman, where he got his costar Martindale to give one of the funniest supporting performances of her career. And if you can't get on board with either of those things, you're missing out.
Images: Monty Brinton (2), Sonja Flemming (2)/CBS