No One's Fighting Anymore Going Into the Reunion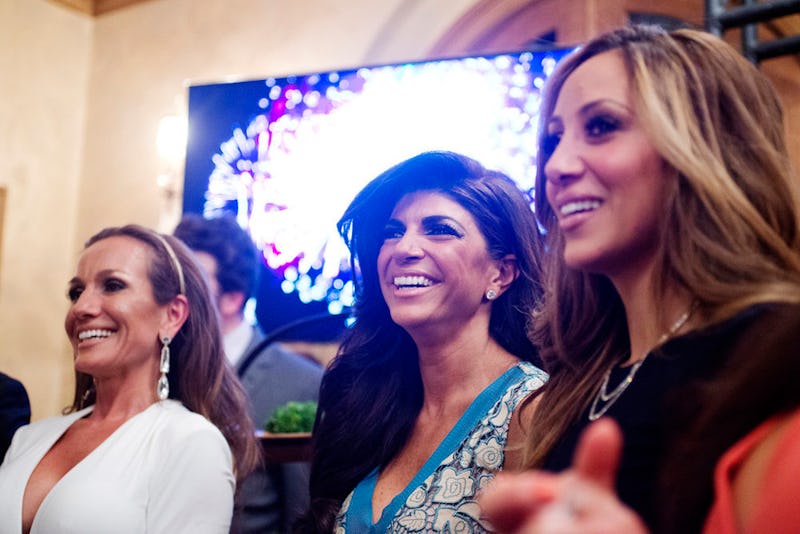 Dina Manzo's Project Ladybug fundraiser was the setting for The Real Housewives of New Jersey finale. And it was a little bit all over the place. The whole event seemed a little disjointed and disorganized, but it eventually went off pretty well, compared to your usual Posh fashion show or dinner party down in the Dirty Jers. We got to see Antonia and Milania walk down the runway, reunited now that Teresa and Melissa are getting along. There were a whole bunch of tense moments and a lot of worrying from Dina about fights breaking out. That persistent rumor about Rino Aprea and Santa, Nicole and Teresa's mother, kept rearing its head over and over. And after all of the fighting all season long, everyone… basically made up. All of the usual suspects who drum up drama were either absent or on their best behavior.
Jim Marchese was there only in spirit, and he never even showed his face at the event, when Rino, He-Who-May-Have-Cheated-with-His-Wife's-Mother while they were separated, managed to sneak in a dig about Jim speaking inappropriately with his wife, but then hugged Amber and said all was forgiven between their families. And Amber admitted that she doesn't always agree with Jim, but she sticks by him because he stuck with her through cancer.
Nicole Napolitano and Teresa Aprea showed up with an ax to grind, and demanded an apology from Teresa for talking with Victoria Gotti behind her back. They confronted her right in the middle of the event, as Dina looked on nervously, but Teresa stood her ground and refused to apologize. As Dina pointed out, being called stupid is Teresa's trigger word. And once Nicole threw that out, Teresa very nearly snapped. But our girl has matured a lot since her last RHONJ finale, because after she calmed down and rather ungenerously threw out more references to the rumor, she then half-heartedly made up with the other Teresa. Long gone is the Teresa G. who could make a minor disagreement last for seasons at a time. If all of the ladies are getting along, then I guess we'll just have to rely on Jim and Bobby Ciasulli to bring the fireworks for the reunion.
Image: Andrei Jackamets/Bravo (2)