Russia's Building A Pro-Russia Theme Park Where?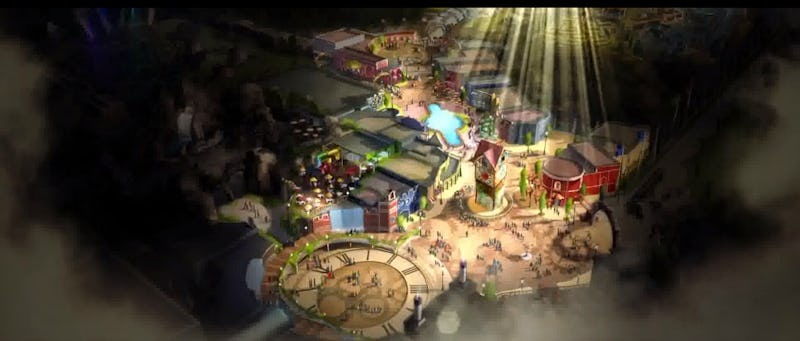 When you think of theme parks, what comes to mind? Personally, I think of disgusting/delicious fried food and the thrill-seeking rides that make me want to vomit up said food. But does anyone think of passive aggressive displays of ownership of a land that most of the Western world believes that you illegally annexed? Yeah, I didn't think so. In a move even more twisted than the lines for the ferris wheel, Russia is building a pro-Russia theme park in Crimea.
Crimea is still recovering from clashes this spring between separatists and the Russian government that, even with a cease-fire put in place, has continued to add to the death toll in the country. On March 16, Russia announced a referendum that 97 percent of Crimea voted to join Russia. Putin signed the formal annexation days later in a move viewed by the UN, U.S., and Ukraine as illegal.
So, how do you smooth things over in a war-torn country? Plant a proverbial flag in the form of a 100-acre theme park! The park, the biggest of its kind in Russia and Eastern Europe, will celebrate the history and certainly bright future of the relationship between Russia and the Crimean Peninsula.
A website detailing the project includes breathless endorsements from the local economic development minister detailing exactly how excited Crimea is to have such a park. Citizens are encouraged to participate in the park hype (read: brainwashing) by voting on a name for the expansive theme park. The top three are currently Megapark, Megapolis, and the Lost Chronicles of Time. And by the Lost Chronicles of Time I'm sure they mean that two-decade gap where Crimea was not a part of Russia, but maybe they leave that bit out.
French theme park owner Philippe de Villiers has fallen under fire for teaming up with Russian investor Konstantin Malofeev, who allegedly funded pro-Russian rebels in Ukraine, for the park project. De Villiers founded Puy du Fou, a historical theme park in western France that was named best theme park in the world two years ago.
Despite his clearly fun-loving attitude, he also called the UN sanctions against Malofeev a "reign of terror," and said he would gladly swap French president François Hollande or former president Nicolas Sarkozy for Vladimir Putin. Nothing but good times here!
De Villiers signed a deal in August to begin construction in Crimea and on another similar historical park in Moscow.
Man. Whatever happened to Space Mountain?
Images: YouTube/Екатерина Петренко (2)