RBG Actually Owns This T-Shirt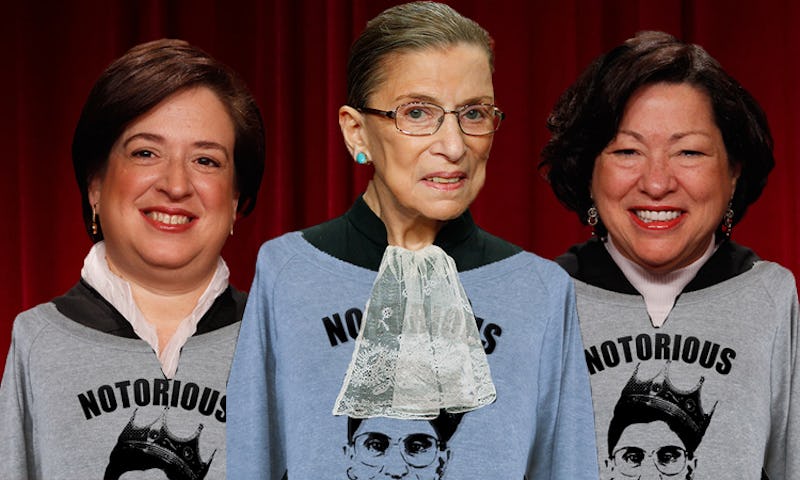 If you haven't gone out and bought your Notorious RBG T-shirt yet, maybe this will motivate you: Ruth Bader Ginsburg has a collection of Notorious T-shirts, which we're sure she proudly accessorizes with her bejeweled jabot. In a conversation with NPR reporter Nina Totenberg at the 92nd Street Y, the beloved Supreme Court justice revealed that yes, she jumped on her own Tumblr fandom and ordered "a large supply" of Notorious RBG shirts. Just how many shirts are in her closet? Ginsburg wouldn't say, but we do know that she hands them out to legal reporters, including Totenberg herself.
The talk, which also featured former President of the Supreme Court of Israel Dorit Beinisch, didn't focus too much on Ginsburg's newfound Tumblr fame among millennial women; recent court decisions, reproductive rights and breaking the legal glass ceiling were really the primary topics of conversation. However, Totenberg couldn't resist asking Ginsburg about her Notorious Internet status.
Just like how she revealed to Katie Couric in an interview for Yahoo! News in late July, RBG knows what all you Tumblr users are talking about — and she's rather amused by it. When asked how she found out about the must-have T-shirts, Ginsburg said:
I think a law clerk told me about this Tumblr and also explained to me what 'Notorious RBG' was a parody on. Now, my grandchildren love it, and I try to keep abreast of the latest that's on the Tumblr. I also have — and in fact, I think I gave you yours — I have quite a large supply [of RBG T-shirts].
"What's that one? You can't have truth..." Totenberg asked. "Without Ruth," Ginsburg replied, nodding. Yeah, she definitely has that one.
There's no word yet if Ginsburg has gifted the Notorious RBG T-shirts to fellow Justices Elena Kagan and Sonia Sotomayor, or what former BFF Justice Anthony Kennedy feels about her Hobby Lobby dissent-turned-acoustic jam that criticizes his controversial vote (sorry, Kennedy). We're hoping, though, that the Supreme Court Girl Gang wears the T-shirt when they're penning their dissents, because if there's ever a time where RBG is at her most "Notorious," it's in her fierce dissents.
Before she was asked about her Best Supreme Court Justice According to the Internet status, Totenberg and Ginsburg discussed gender parity on the high court. When will the legal glass ceiling finally be shattered? "When there are nine [women on the Supreme Court]," Ginsburg said.
We like that answer.
Images: Notorious RBG/Tumblr