Ellen Knows Who She Wants As 'Ghostbusters'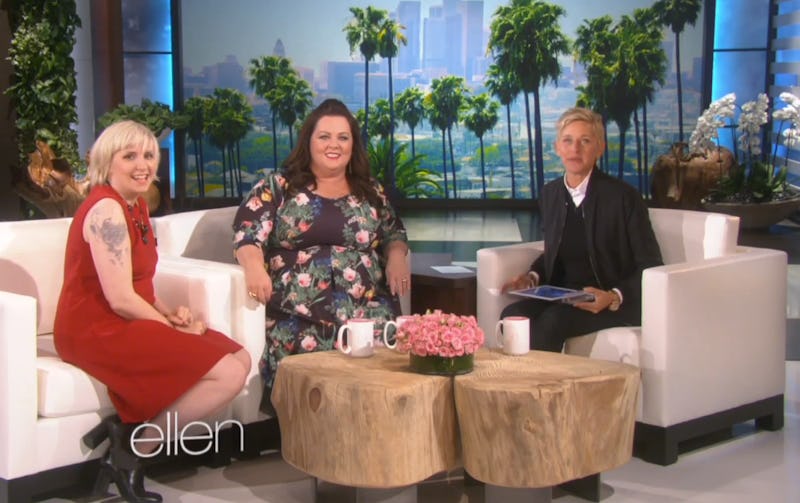 Rumors were swirling before the female-led Ghostbusters was even confirmed about the ladies who would actually be suiting up. Like any Hollywood rumor, it was only a matter of time before it made it to Ellen DeGeneres — so when Lena Dunham and Melissa McCarthy stopped by Ellen , it was only natural that DeGeneres start grilling them on their Ghostbusters plans.
The clip starts DeGeneres' version of the game charades, then they get down to business. Though McCarthy denies involvement with the project at this juncture, Dunham notes that "every lady in town who fancies herself a jokester wants in." DeGeneres, for her part, seems to have a pretty clear vision of what she wants this movie to be, and it involves McCarthy, Dunham, and herself as Ghostbusters in the Paul Feig-directed Katie Dippold-written comedy.
Neither Dunham nor DeGeneres were names that popped into my head when I was day-dreaming casts for this movie, but now that DeGeneres brings it up, I gotta admit, I can kinda see it. This is the kind of ensemble that needs a wide variety of different personalities present to really play effectively as a group, and each of these ladies have such singular auras that I think I could dig it.
Then again, considering all the amazing women in Hollywood right now, I can't imagine myself unthrilled by a Ghostbusters casting ... unless they decide to completely whitewash it.
Image: Warner Bros.