A Behind-The-Scenes Look At 'Vanderpump' Seas 3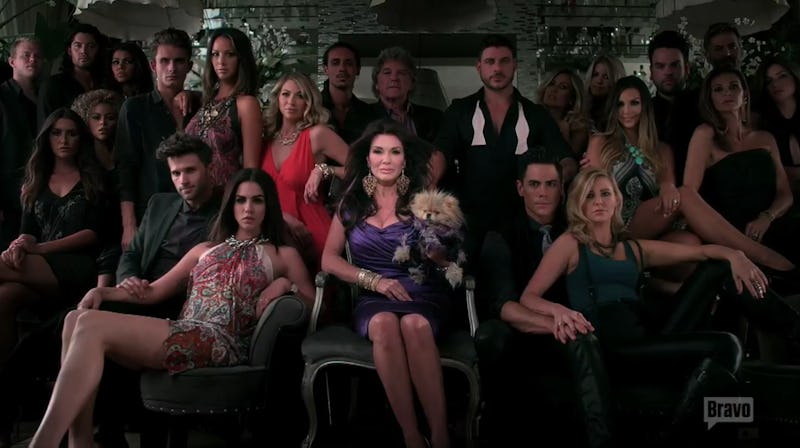 As if the universe wanted to ensure I wrapped up my weekend on an extremely great note, The Hollywood Reporter shared a behind-the-scenes look at the making of the Vanderpump Rules Season 3 title sequence Sunday evening. It's four minutes and 29 seconds of my favorite reality TV cast Vanderprimping, Vanderprepping, and Vanderposing for the camera. I was already Vanderpumped for Vanderpump Rules' Season 3 premiere (we're only two weeks away, snitches), and now, thanks to the behind-the-scenes video, I am gnashing my teeth and clawing at the sky. You could say the video SURved its purpose.
While I watched this shimmering emerald of a vid, I made a list of my favorite moments. (You know, for my files.) But I did not stop there, for merely identifying the best moments did not seem like enough. Too simple. Too easy. I wanted to challenge myself, so I ranked the moments. Yes, I tackled the arduous task of ranking all of the beautiful, near-perfect, major moments. And now I will count down the moments.
THE BEST MOMENTS OF THE BEHIND-THE-SCENES VIDEO
#8: Jax Taylor hits the camera with a no-nonsense stare while pouring that ice water into a glass
It's hypnotizing.Reason For Decision: It's a little too hypnotizing.
#7: Tom Sandoval, Ariana Madix, and Kristen Doute film their part together, and Ariana is the only one smiling
The tension is magical. RFD: I gotta admit, I found myself wishing that the entire trio would smile for a take. Up the awkward ante.
#6: Stassi Schroeder tries to not blink
"God, there's so much pressure, I can't even explain." <3333 Stassi <3333RFD: Not enough Stassi, tbh.
#5: Tom Sandoval describes all of his shirt options
Tom Sandoval's well-curated blouse collection something to behold.RFD: "This is a shirt that has studs as buttons."
#4: Peter Madrigal talks into the camera about makeup
Ugh, I've missed Bartender Peter.RFD: Not enough Bartender Peter, tbh.
#3: Lisa Vanderpump walks toward the camera and throws a scarf
I mean.RFD: I could've watched 45 takes in a row.
#2: When everyone poses for the group shot, Jax and Stassi are separated only by Ken Todd
I like to imagine Ken was on Jax And Stassi Patrol. I like to imagine Ken was assigned the very important task of keeping the two exes at bay. I like to imagine Ken had two small spray bottles that he'd point at Jax and Stassi any time they made eye contact. RFD: This would've been #1 if Ken was actually holding two small spray bottles.
#1: Tom Sandoval talks pant and shoe options
"And then I also have these black, er I'm sorry, these silver dress shoes that I spray-painted myself." RFD: He has so many pants. He spray-painted his shoes silver. He doesn't ask for another take when he flubs and says the very silver shoes are black. He lets the flub roll off of his back. I respect that.
Image: Bravo