Will Stassi & Jax Fight Like Old Times?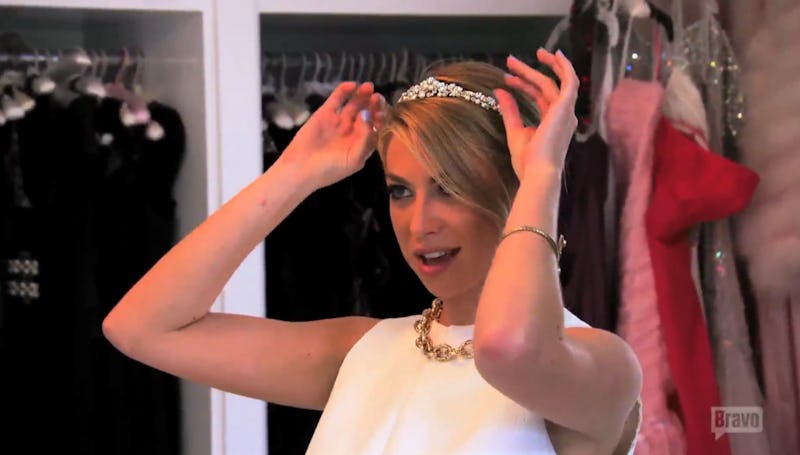 I didn't think I could be more revved up about Bravo's Monday night lineup after the channel announced Euros of Hollywood will begin on Nov. 3. (I created an event in my iPhone calendar and everything!) Alas, the gods of TV proved me wrong: Not only will EoH kick off, but my favorite reality show will be back in my arms that night. Yup, Vanderpump Rules Season 3 will premiere Nov. 3. And there is a preview on Bravo's site. And oh my SUR, is it ever a thing of beauty. And one more thing: Just like Jax Taylor promised, STASSI SCHROEDER IS BACK. YESSSSSSSSSSSSS. Stassi vs. Jax. Season 3. Let's do this.
...Eh, maybe I shouldn't hold my breath for an epic Stassi/Jax face-off. Back in March, the Vanderpump star told Grantland's Juliet Litman that she "refuse[s] to be in the same area" as Jax, and something happens in the Season 3 preview that goes right along with that statement. Something happens that leads me to believe Stassi will avoid her ex-boyfriend/ex-coworker at any cost. Even if that cost is bailing on a conversation with Queen of SUR Lisa Vanderpump.
The Stassi/Jax non-frontation moment from the preview:
Lisa and Stassi chat. Lisa tells Stassi Jax has entered the building. My heart begins to race. But then, Stassi is like, "g2g cya l8r SUR."
"Hold up, you're LEAVING? Don't you realize what a glorious TV moment this could be?" I ask the Stassi in the preview. She does not answer.
"You're not the girl who runs away and hides," Lisa calls out after Stassi. I nod in agreement.
But Stassi keeps on walking down Robertson Blvd. Stassi never looks back. Stassi and Jax pass like two ships in the night.
And that's it.
The rational part of my brain: What a mature and healthy move, Stassi! Leave before stuff gets awkward and/or contentious. No need to get into a fight with Jax and raise your blood pressure over old drama. You've moved on! That's terrific! You don't need this ish!
The reality TV-loving toad part of my brain: NO, STASSI! DON'T LEAVE! PUT JAX IN HIS PLACE LIKE YOU DID IN SEASONS OF YORE! RUN CIRCLES AROUND HIM FOR THE ZILLIONTH TIME! REDUCE HIM TO A PILE OF ASH LIKE IT'S YOUR JOB! WAIT, ISN'T IT SORT OF YOUR JOB? YOU ARE ON A REALITY SHOW, AFTER ALL. I DON'T KNOW IF A SEASON OF VANDERPUMP RULES WITHOUT A STASSI/JAX SHOWDOWN WILL FEEL RIGHT!
[Takes deep breath.] A thought: Perhaps Stassi actually does lay the verbal smackdown on Jax, and the footage of Stassi strutting away from her former place of employment was shot afterwards. It could be a misdirect cleverly crafted by the editors. And, hey! Even if they really didn't speak that night, that doesn't necessarily mean they never interacted in front of the cameras. That scene from the preview is just one scene.
Just because it didn't happen in the preview doesn't mean it didn't happen, Rohwedder! Don't forget that, Rohwedder! Don't work yourself up into a lather, Rohwedder!
Too late. I've already worked myself up into a lather. I'm worried Stassi and Jax won't cross paths. I'm worried we fans will be deprived of the sweet, sweet sounds of Stassi verbally eviscerating Jax.
And I'll be darned if I don't live for that sort of thing.
Images: Bravo; heycookies, realitytvgifs/tumblr