Watch Out For That Merlin, Er, Marlin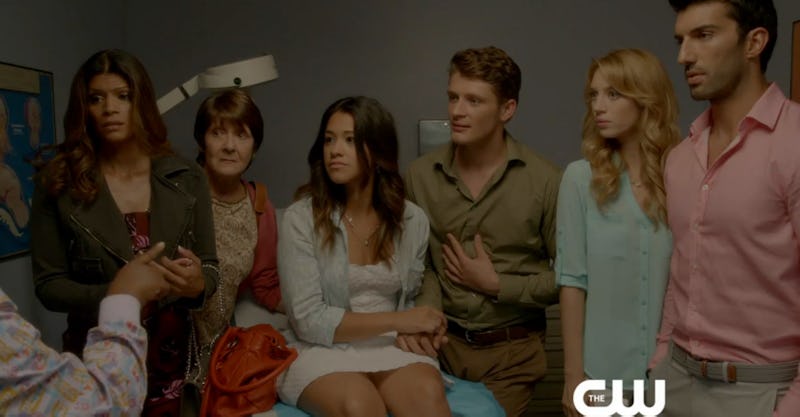 Monday night's episode of Jane the Virgin left me with a lot of questions: Is Jane the greatest ever or what? Is Michael always this bossy? What's going to happen with Ximoara and Rogelio? Are Petra and Rafael actually falling back in love or are they playing each other for the zillionth time? Is Luisa's sad story only going to get sadder? Is Rafael and Luisa's dad a villain from a James Bond movie? Who killed Zazo? And so on.
Let's back up a second, because uff da. I cannot force the image of Roman Zazo's skewered body outta my mind. And duh, I'm itching to find out whodunnit.
When the narrator (who, by the way, is one of my favorite parts of the show. He sounds like he's having Kristen Bell narrating Gossip Girl-level fun with the lines. I live for it) said "But there would be no 'later.' Not for them" as Petra left Zazo alone in the hotel room, I didn't think too much of it.
That probably just means Petra's ended the affair once and for all. Psh, like this charming CW comedy would kill off a character in the second episode.
I was so naive. The show didn't just kill off Zazo. The show brutally impaled Zazo's body on a sculpture of Merlin, er, a marlin. I am all in on this show.
So, who killed Zazo?
Was it Petra? As far as we viewers know, Petra was the last person to see Zazo. Why would she kill him? Eh, maybe she figured the temptation of hooking up with Raf's BFF was too great. Maybe she decided offing Zazo was the only way to guarantee she'd end up with the baby (and Rafael's money).
Was it Michael? He did seem very upset to see Petra and Zazo back together after giving Petra an ultimatum. (That Michael sure loves ultimatums.) Maybe Michael snuck into the room after Petra left and shoved Zazo off of the balcony. GASP! Could a murder-soaked past be the secret Michael's brother hinted at?
Was it Rafael? Did he find out about the affair and hire a hitman? Is that why he was staring off pensively into the ocean? Was he thinking about the grisly murder he'd orchestrated?
Was it an accident? Zazo might've been sitting on the roof, staring at the stars, and thinking about his life. Perhaps the very moment he decided to change his evildoer ways for the better, he slipped off of the roof and onto the ice marlin.
Was it the narrator? NO WAY. YOU LEAVE THE PERFECT NARRATOR OUT OF THIS.
Was it the ice marlin? Uh, what? Like, did the marlin ice sculpture come to life and stab Zazo? I... I'm going to leave this one alone.
Was it a character who hasn't been introduced? HNNNNNNNNNNNGH YES. NO. MAYBE. I DON'T KNOW. THERE'S A CHANCE. ANYTHING IS POSSIBLE. I GIVE UP.
Image: The CW