We Need to Meet These Characters on 'Scandal'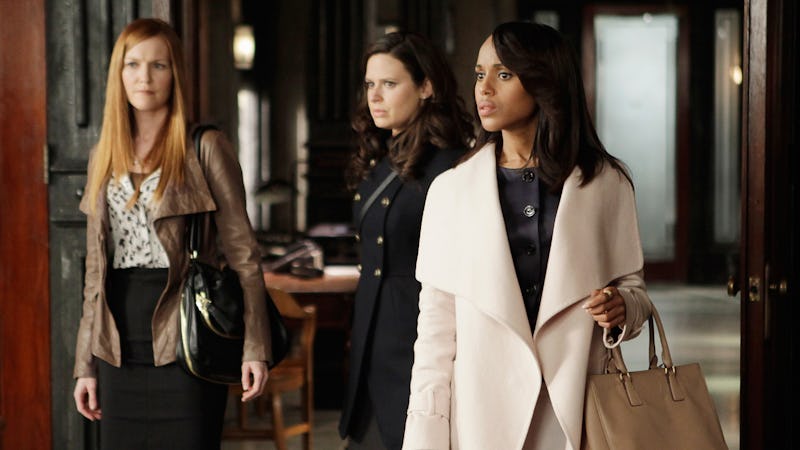 Skeletons often come out of the closet on Scandal, and the latest one will be Abby Whelan's abusive ex-husband, played by Michael Trucco. The Battlestar Galactica alum will play Charles Putney, who broke Abby's jaw and ribs during their marriage — and allegedly prompted Olivia Pope to come after him with a tire iron. Even though Liv and Abby are on the outs right now, these Gladiators will likely band together if Charles is any danger to Abby. It would be a traumatic way to mend their friendship, but that sounds like the Scandal way to do it.
Now that we're on the subject of ghosts of relationships past, there are quite a few people I'd love to see come charging into Washington. This season, we saw an old college friend of Olivia and Abby's come back in the picture in a super messed up way — sleeping with her daughter's boyfriend and potentially being responsible for her little girl's death — and it got my gears turning. Liv had friends. Maybe lots of them. She isn't warm and fuzzy, but she's loyal to the death and smart. Who did she befriend along the way? And more importantly, whom did she date before ever setting eyes on Fitz or Jake? Keep reading, because I have plenty more thoughts about the tangled webs of everyone on Scandal to get out.
1. Olivia's exes and former friends
Not that Olivia really needs any more drama in her life, but an ex from high school or college could be fun to throw in the mix of her love life. And she could also easily have more friends who are in trouble or even looking for work. After Harrison died, she technically has a space to fill in OPA if they ever come back together as a team. No one new has been added since Quinn, so it could be time.
2. Quinn's mom
We met Quinn's dad — well, Lindsay Dwyer's —briefly in Season 1, but we have yet to see her mom. Since her father has a girlfriend named Janice, I'm guessing they're divorced. Or is Quinn's mom dead? Either way, it would be interesting to bring one or both of her parents in the picture.
3. Mellie's friends and family
Mellie could really use some love in her life right now. Could anyone surface from her family, friend group, or even an ex? Smelly Mellie and her fried chicken platters need some company.
4. Really, anyone's family
Honestly, I would be happy to see anyone's family pop back in. Huck's situation is messy, but Abby must have happy parents somewhere. Siblings? What about Jake or Cyrus? It would be interesting to fill in the gaps.
5. Jake's exes
Maybe Olivia needs to be a little jealous from Jake's former flames. It doesn't have to drag on as a big plot point, but we all know Jake got some.
6. Fitz's... friends? And Cyrus, too
Does Fitz have anyone to talk to? He seems pretty alone all the time, but I guess being the president does that to you. The same goes for Cyrus. They clearly have work-life balance problems.
Images: ABC (3), Getty Images (3), Giphy (1)