We May Not Make It, 'PLL' Fans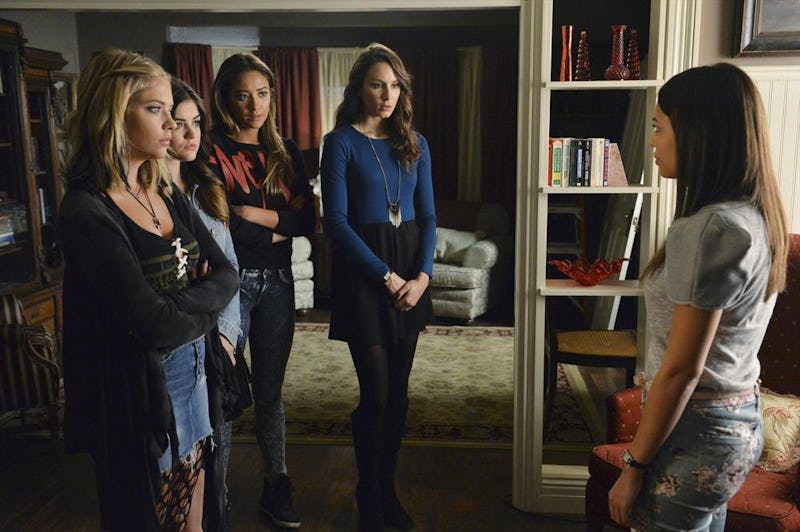 Tuesday's summer finale of Pretty Little Liars will, naturally, be a doozy. In normal Pretty Little Liars fashion, it'll probably go out with a big bang, possibly a death, and a thousand unanswered questions. You know, the usual. A Pretty Little Liars character will die in the #FatalFinale, and we should probably start preparing ourselves. This won't be a lame fake-out "maybe" death. Come 9:01 p.m., we'll all probably be either crying or at a loss for words. Maybe both. Then, once we recover, the next question will undoubtedly be, "When does PLL Season 6 start?"
Well... the short answer is: 2015. Update: ABC Family confirmed that Pretty Little Liars Season 6 will premiere June 2.
OK, don't start freaking out just yet. Breathe. We're not even done with Season 5. I know Tuesday's episode is being billed as the "fAtal finale" but it's not actually the season finale. It's actually the summer finale. We've only been through half of the Season 5 episodes; Tuesday's is number twelve, out of the planned twenty five. We've still got thirteen more to go, and that's a very unlucky number.
When does the rest of Season 5 begin? We can add that to the show's long list of unanswered questions. There is no return date set, as of yet, for PLL's Season 5b return. This year's themed episode is going to be a holiday one, rather than a Halloween one (which is a bummer, since those are usually the best). So while we can't expect more Rosewood by pumpkin-carving time, we will have a taste for the holidays. Have we ever seen the Liars in winter wear? I am already so excited thinking about Aria's snow fashion.
Then, during a Reddit AMA, showrunner I. Marlene King revealed the episode title: "How the 'A' Stole Christmas." The episode will naturally air during ABC Family's 25 Days of Christmas, and hopefully it's enough to hold us over until the new year, when the rest of Season 5b returns. For now, we can guesstimate that the second half of Season 5 will air in January 2015, but sometimes ABC Family plays with the schedule. There's no official return date set, so we'd better savor Tuesday's summer finale.
As for Season 6, that's anyone's guess. Sometime in 2015, probably for the summer, as usual. Considering that PLL has been renewed for a seventh season too, we can look forward to more A shenanigans well into 2016. As long as our Liars can manage to survive for that long.
Image: Eric McCandless/ABC