'TVD's Latest Villain Used To Hang With Carrie B.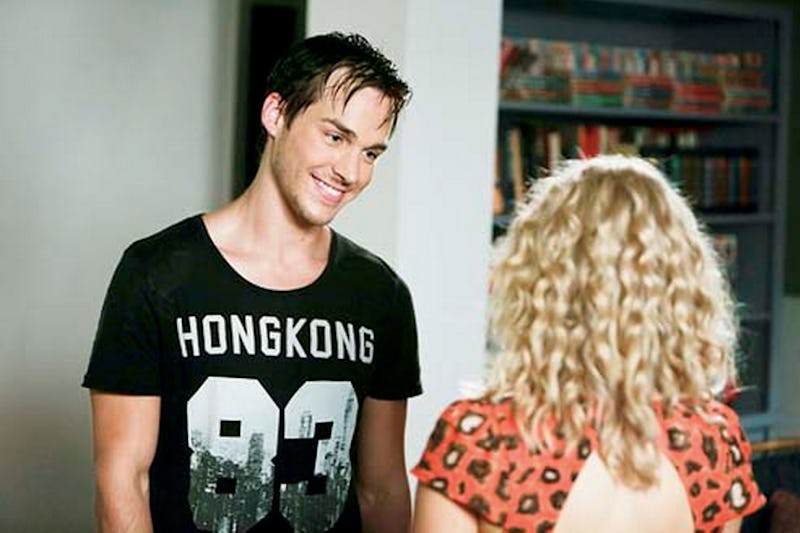 Characters on The Vampire Diaries always come and go. They live, they die, they cause much too much drama. Season 6 has introduced us to a number of new characters as the gang tries to get magic back in Mystic Falls and Damon and Bonnie back into 2014... and the real world. On that note, many of you TVD fans may be desperately wondering who the heck Kai is on TVD who is making Damon and Bonnie's lives a literal living hell. You might also be wondering why the actor who plays Kai is so familiar. Don't worry, I've got you covered. Kai — the menace who loves pork rinds and apparently, tampering with both vervain and Bonnie and Damon's patience in their 1994 world — has shown up in a different set of CW Diaries in the past.
The actor who plays Kai, Chris Wood, doesn't quite match up to his TVD character. Just read his bio, "I act and drink coffee. I excel at the latter." Holla at ya boy, Starbucks. Wood's acting life before The Vampire Diaries was just getting started on the small screen. His credits include a short appearance on HBO Girls and the CW's The Carrie Diaries, which is probably why you have the vague sense that you've seen him before.
But because I am to please, here is a quick refresher on Chris Wood:
Adam Weaver from The Carrie Diaries
(Aww, a confession of feelings, how cute.) Wood made his first CW appearance on the way less HBO version Carrie Bradshaw's life, The Carrie Diaries. He played Adam Weaver, although he preferred just the last name, Weaver. (You know, like a reverse Beyonce or Madonna.) For those who don't know the show, he was a playwright and caused quite a ruckus between Carrie and one of her many true loves, Sebastian. Oh, and he took Carrie's virginity. So there's that.
Paul on Girls
After his time on The Carrie Diaries, Wood made a quick appearance on HBO Girls. He played Paul in the Season 3 episode called "Beach House." (You know, the one where Marnie has all the girls over to her that fabulous Hamptons beach house? Yeah, that one.) Wood's Paul has yet to make a return on the series, but hey, you never know.
Chris Wood IRL
Sorry, guys. I don't have the power to bring Mr. Wood to you in real life. But I can say there's a lot to learn about the guy by lightly stalking, er, researching him on Twitter and Instagram. The man runs a pretty good Instagram game as @christophrwood. Hi, post-half-marathon selfie.
And in case you're wondering, this Vampire Diaries star really. loves. coffee:
We may still be scratching our heads about Woods' character Kai on TVD, but at least we can get a handle on the actor IRL. Here's to hoping that Kai doesn't suffer a horrible death at the hands of Damon's vengeance. I'm beginning to like this guy.
Images: David Giesbrecht/The CW; Giphy (2)