'HTGAWM's Oliver Is a Broadway Babe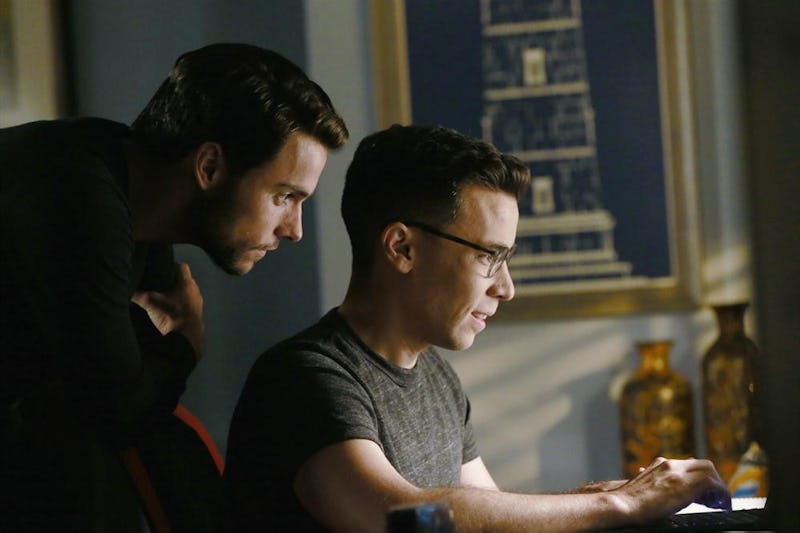 Oh, Connor — you beautiful, jaded, maybe sociopathic little Lothario. Five episodes into How to Get Away with Murder and we still hardly know anything about Annalise, but there's plenty to know about Connor Walsh. We know he's ruthless; we know he knows how to use his sexuality to his advantage; and we know he might have slightly stronger feelings for his I.T. pal, Oliver (and also that at some point he really screws up). Naturally, we're all wondering who plays the handsome, nerdy Oliver on HTGAWM .
After Oliver popped up at that bar, his voice cracking, his glasses glaring, did you ever expect to see him again? I certainly didn't, but in a sea full of pseudo-murderers, he's proven to be one of the most human characters on the show, not to mention his and Connor's relationship (not boyfriends!) giving us a look at the sexual side of homosexuality so rarely seen on network television.
The actor who plays Oliver, Conrad Ricamora, arrived on our screens in a surprising a turn when Oliver reappeared in Episode 2. What's even more surprising is that Ricamora didn't even begin acting until after he graduated from college, and before appearing in one of the most anticipated shows of 2014, he had exactly one screen credit to his name. But even though Ricamora credits his best acting asset as "his ability to wear glasses," audiences and critics have also seemed to be drawn to his smile, his innocence, his charm, and his magnetism. So, HTGAWM likely isn't the last place you'll see Ricamora, let's just hope Oliver doesn't have to get anywhere near that witness stand.
But where might you have seen him first?
Talladega Nights: The Ballad of Ricky Bobby
After an undergrad theater class gave Ricamora the acting bug, he set out on a journey that would eventually make him an off-Broadway It Boy, but first saw a stage fellowship in Philadelphia, a few commercials, and of course, a tiny role in Talladega Nights with Will Ferrell, a huge deal for self-professed SNL-fanatic, Ricamora.
His YouTube Channel
Oh yeah — he sings. I don't know if Ricamora waited until his 20s to discover this little skill set, as well, but I do know that it's aided him handily in his career's biggest break...
A Man of the Stage
After getting started in mostly Shakespearean theater in Philadelphia — he's played both Romeo and Juliet in Romeo and Juliet — Ricamora was cast from an open call in Here Lies Love , a rock musical adapted from the eponymous album created by David Byrne and Fatboy Slim. Here Lies Love follows the rise and fall of Filipina First Lady Imelda Marcos; Ricamora plays Ninoy Aquino in the critically acclaimed off-Broadway musical, calling not only on his musical and acting talents, but asking a guy who's only been in the business a few years to perform seven nights a week with a matinee on Sundays.
But Ricamora has done that to the critical acclaim (a "terrific" from Vogue, and a "very good" from The New York Times, Ricamora's personal favorite), and then some... that some earning him the 2013 Theatre World Award for Outstanding Debut Performance, and the role of a standout side character on one of the best received new shows of 2014. We know it's looking like splitsville for Connor and Oliver; but we also know that when Connor's at his lowest, there's only one fellow he wants to see.
Hello, Season 2.
Image: Mitch Haaseth/ABC