Probably the Most Awkward Interview Ever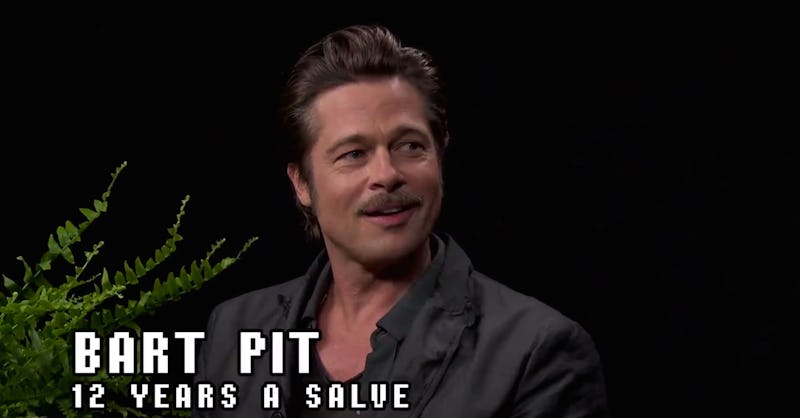 Fake or not, I think it's safe to say this is probably the most awkward interview he's ever done. In a new installment of Between Two Ferns , Brad Pitt joined "host" Zach Galifinakis to talk how to pronounce his name (note: It is not "Bradley Pitz," or "Bart Pit"), when he lost his virginity (note: he is not comfortable discussing that), his new movie Furry (note: no, actually, it's Fury), and whether or not he'll be a sperm donor for Galifianakis (note: No, he won't). Amongst other things (note: stop mentioning Jennifer Aniston and Friends in interviews with him).
Yeah, it was super awkward.
Of course, if you're not familiar with Between Two Ferns, the Funny or Die web series featuring Galifianakis interviewing celebrities — and occasionally the President of the United States — it's majorly satire-based, so of course none of this is real. It's still an amazing watch, though, if only to see celebrities fake-respond to the pressure with ease (case-in-point: Jennifer Lawrence) or confusion.
You can check out Pitt's appearance on Between Two Ferns below. For the record, it has not been revealed when Fury will be released on DVD, but the film was officially released to theaters in the US earlier this month.
Image: Between Two Ferns