Is 'Avengers: Age of Ultron' Going Dark?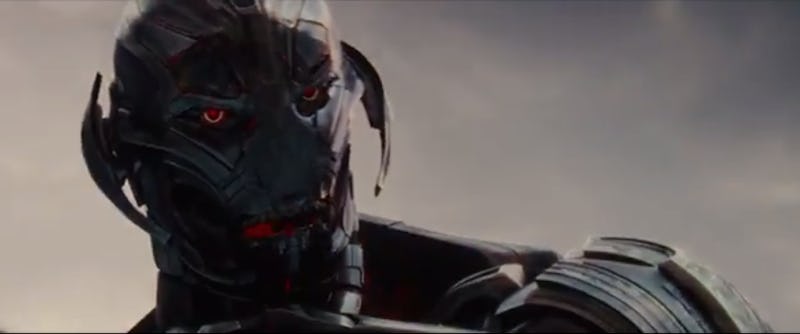 There's nothing quite like a genocidal robot spouting eerie renditions of Disney tunes in menacing staccato to get you in the mood for fun. That, teamed with a heap of city destruction — wreckage, fire, crying civilians, you name it — marks the world's first glimpse at Avengers: Age of Ultron , the follow-up to Joss Whedon's fun incarnate blockbuster that looks anything but.
After an increasingly goofy set of Marvel one-offs — Tony Stark berated a nine-year-old, Thor got shushed in a library, Steve Rogers penciled Rocky II into his busy schedule — we meet a particularly grim teaser trailer for the second Avengers flick. One steeped in images of domestic peril and military shootouts. But I'm hoping that's not the bulk of what we're setting up for this time around.
As we pass from one glowering Avenger to the next in the quick trailer, which leaked abruptly on Wednesday ahead of its intended release alongside the broadcast of the upcoming Agents of S.H.I.E.L.D. episode, we can't help but wait for any semblance of that Whedon touch. A wry gag from Iron Man, a sardonic quip from Black Widow. But humor takes its leave in this video, making way for a shredding of city streets that looks to far surpass the degree of such witnessed in The Avengers.
It's not exactly lightly peppered throughout the trailer: we open with a terrified horde cowering beneath the flaming hand of titular villain Ultron (James Spader) as his voiceover celebrates their screams for mercy; to follow, we have torn up and destitute city streets, ample gunfire, cyborg decapitation, and plenty of center stage Avengers troupe in-fighting.
But there's a limit to how much of this grim, humorless destruction that we can take, as anyone who squirmed through the last hour of Man of Steel can attest. While we expect Marvel to up a few antes with its forthcoming feature, the point of diminishing returns hits when the victims of this damage are not limited to screen characters. The massive demolition of Zack Snyder's 2013 Superman movie, and many like it (the Transformers flicks spring to mind) practically rendered viewers sick, prompting castigations of the film as little more than "destruction porn."
While I'm inclined to give Whedon as many benefits of the doubt as I can muster, the necessary hike in stakes warranted by Age of Ultron — and the dismal tone of its first teaser — does prod concerns over just how dark the sequel will feel obligated to be, and just how much municipal annihilation comes along with that. Yes, the Avengers writer/director handles characters far better than Man of Steel's Snyder ever has — put Agent Coulson up against Leonidas, Buffy Summers against Babydoll, or the entire crew of Serenty against the Owls of Ga'Hoole — and managed to intertwine blockbuster action with sincere character material in his first go 'round with the Marvel troupe in '12.
But the pressures of topping the biggest superhero movie ever made may get to even the creative forces richest in artistic integrity. With not only The Avengers but also the avalanche of popularity that has been Marvel's Phase II to top (Iron Man 3 and Captain America: The Winter Soldier were leagues more successful than their predecessors, and Guardians of the Galaxy is still raking in box office records), Age of Ultron could well give way to the call to go bigger. Bigger fight sequences, bigger destruction, bigger chaos.
And then there's too big. So much destruction as to rob the movie of its sensitivity, and the viewers of their stomachs. So much chaos that it renders story and characters secondary, favoring edificial decimation over personal arcs. We've seen plenty of potentially vivid material crumble under the "bigger" demands in these past few years alone. Though we might scoff at the idea of a Whedon movie being light in character, it's hard to look at the new Age of Ultron trailer and not wonder if we're headed down a darker, more dangerous path.
Images: Disney (6)