What It's Like To Be A Songwriter In Nashville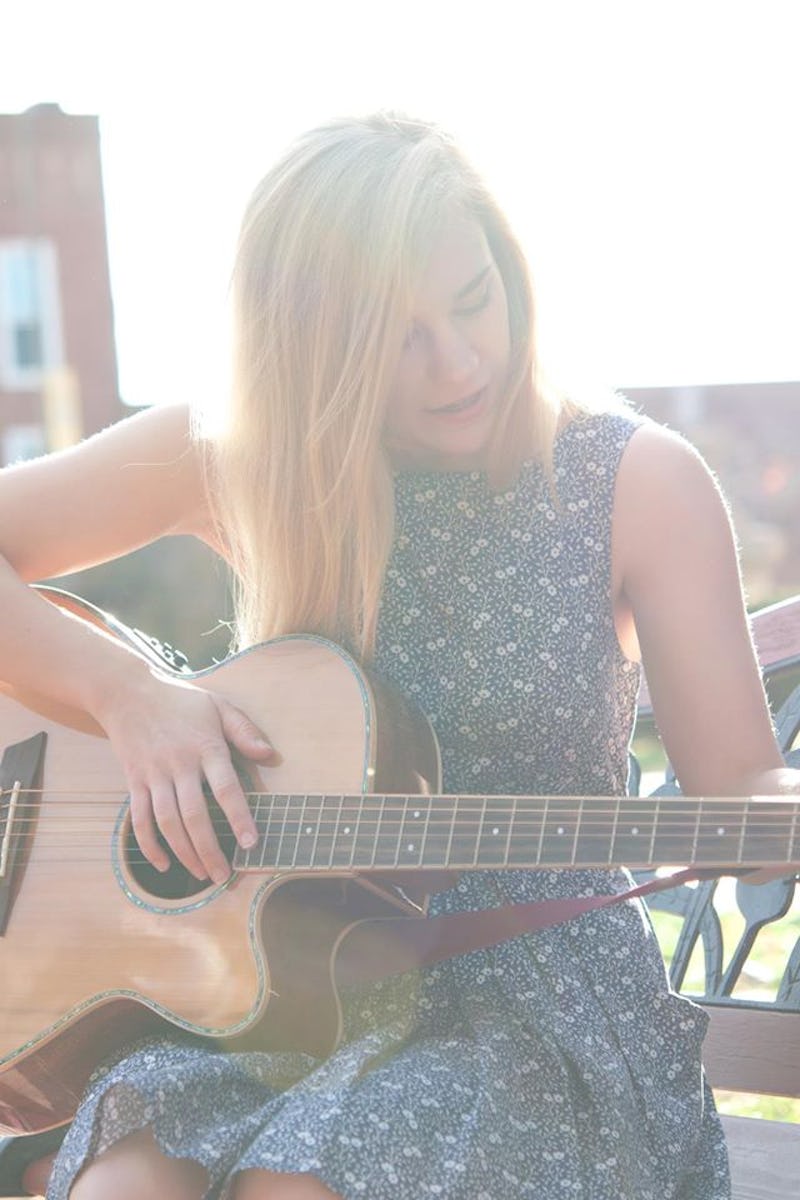 Growing up, I never considered myself a songwriter. I loved to sing, and occasionally wrote a song as a consequence of that. I certainly never thought I would end up trying to make it as a singer/songwriter in Nashville. But at a certain point while I was in college, something snapped. Suddenly I was only half-present in my classes, scribbling down verses to songs I thought nobody would hear. I started manically recording the melodies in my phone so that I wouldn't forget them. I bought a cheap guitar on Craigslist and took lessons from a guy down the street from me, and I will never in my whole life forget the awe and satisfaction of figuring out, for the very first time, the chords that fit under something I had written and hearing it sound like an actual song.
I'd never shared my writing with anybody. It was very personal to me, something I felt very sensitive and guarded about. But as a performer, I've always been compelled to try things that scare me – and believe me, singing while accompanying yourself on guitar, voicing the very personal thoughts that you wrote, is more terrifying than you could ever anticipate. But a local club owner humored me and let me play one song in between artist sets, and I came out of those three and a half minutes caked in sweat, shaking at the knees, and somehow determined in that moment that I was going to move to Nashville.
My parents were alarmingly encouraging. I don't think anything could really prepare them for me candidly announcing on the phone that I was planning to move to another city to pursue something I hadn't even talked about that much (at that point, I was too embarrassed even to let my parents hear my songs). But I was actually born in Nashville, since it was where my parents met, and even though I only lived there until I was two, my parents had enough friends there that they felt like I'd be safe living on my own.
I was very impatient once I made the decision to go. I ended up graduating a semester early and hitting the road right after the holidays were over, January of 2013. I packed up the car with my mom and drove twelve hours to an apartment a good ten miles away from the downtown area, with two roommates I'd never actually met. As a person who always had carefully laid plans and rarely did anything unpredictable, the move itself was a bit of a shock to my system. Dropping my mom off at the airport a few days later was the weirdest feeling, like I was in some parallel universe or that I'd surely forgotten something, because all of a sudden I was sitting in a bedroom on a blow-up mattress in an unfamiliar city where I didn't know a single soul.
One thing I will say about Nashville: if it's scary to move there, it isn't very scary for long. I have never been to a city as friendly as Nashville. I'd been involved in singing circuits in New York and DC, and everyone has always been very competitive and will keep any edge that they might have over you a secret. But in Nashville, strangers will bend over backward to help you with your songwriting. The first place I went was the offices of the Nashville Songwriters Association International (NSAI). They are experts at settling new songwriters into the area. Connecting to other songwriters was seamless and easy. They showed me all the best workshops to attend, the songwriter nights in the area I could pitch myself for, the contests and the resources, and even a mentor I could meet with twice a year to help give me direction.
In the meantime, I took a barely above minimum wage job at a popular lunch spot in Nashville, getting up at five in the morning so I could keep my evenings free for songwriter nights, which often ran late. You know who never sleeps? Songwriters. But those first few months went by so fast – I was soaking in everything and meeting new people and driving all over the city to different gigs that I hardly even noticed.
My timing on the move made the experience a little different than it probably was for songwriters who came before me; Right as I settled in, the show Nashville was starting to take off. Let me dispel a few rumors: in that first episode, when Scarlett and Gunnar are put on the spot for the Bluebird open mic because it just so happens that everyone else has gone home for the night? Yeah, that never happens. Open mic lines for the Bluebird snake out of the building and around the block, and just in case you needed photographic evidence:
I've stood outside of the Bluebird to see my favorite songwriters play or to get into the open mic in the rain, in the snow, in sleet so intense I couldn't see. If you're not sitting there at 3 o'clock to see a 6 o'clock show, you might as well not stand in the line at all. The Bluebird was already famous, and Nashville only made it even more popular. And as spacious as it looks in the show, I can assure you, the Bluebird is tiny. The wait staff can barely navigate through the bodies during songwriter rounds.
You learn a few other hard truths right off the bat when you come to Nashville. The first, and most significant lesson: You will probably fail. So few people actually "make it" in Nashville. If you're going to be one of them, you have to be bullheaded and bulletproof and ignore every statistic staring you in the face. Also, songs have rules, and you have to learn them before you break them. Catchy hook, three and a half minutes, paint a picture and tell a story and make someone feel something. Sounds easy enough, until you're staring at a blank piece of paper and trying to summon the words for a feeling that you can't even name.
You also learn to come out of your shell pretty fast. There is no such thing as shame in the Nashville songwriting arena. Everything you've ever felt or thought gets tossed out into the void, picked apart by other songwriters, made available for anyone to hear. I made the adjustment faster than I thought I would, and was even able to co-write with a few other people I met out on the road. Being someone who held things close to my chest, it was hard learning to expose some of my inner most feelings within five minutes of sitting down for a co-write, but it was also weirdly refreshing.
And despite a lot of tough times, good things did happen to me there. My parents told me to expect one good thing to happen a month – one awesome day for every 29 days that nothing will happen – and they were absolutely right. Looking back, there were some amazing highlights. I got to sing the national anthem at a Sounders game; I starred in a web series about songwriters; I took a very random gig modeling wedding shots for a photography school. I got to be an extra on Nashville, and an extra on a show where I got to meet Scotty McCreery (perfect gentleman) and fist bump Brantley Gilbert. A few well-known songwriters were starting to recognize me when I was out and about, and a publisher heard a song of mine about six months after I moved there at a workshop and took me under his wing. I think the best moment by far was going out to a gig where so many of the audience members recognized me that they all started drunkenly singing along to the chorus of one of my songs. For those three minutes I felt like I was on top of the world.
That being said, the other 29 days could be brutal. There was nothing glamorous about the songwriter lifestyle. I think my friends back home thought I was playing to a hundred people when the truth was, I was singing to five people in a bar who didn't even want me to be there. It's a harsh reality that you really only understand when you are in Nashville: you are a dime a dozen. There are a hundred thousand girls there who look just like you, who sing just like you, who write songs just as well as you do. In Nashville, it isn't always about who has the most talent because everybody there has talent. It's about who perseveres, who shows up, who happens to be in the right places at the right times and doesn't get discouraged by rejection – or worse than rejection, nothing happening at all.
Another thing that nobody tells you about songwriting in Nashville: It is a field run almost entirely by older men. I watched boys who arrived at the same time I did, boys who arrived after I did, making buddies with the older male songwriters in bars and landing co-writes with them and pushing past a barrier that I felt was impossible for me to get past even though we had the same amount of talent. And there were a also times when I thought one of the older songwriters was taking me seriously, only to realize quickly and embarrassingly that they were actually hitting on me, and weren't interested in my songwriting ability at all.
Of course, there were plenty of exceptions to that rule, and great guys who really did hear me out and offer great advice. Some of them were my best friends at the time. That didn't make it any less shocking when the ones with bad intentions reared their ugly heads.
I'm not embarrassed to admit that I am one of the people who didn't "make it" in Nashville. That being said, I'm not dead yet. I have plenty of time to try again if I ever wanted. But the thing is, I'm a happy person. I always have been. And in those last few months I was there, I was so miserable and so overwhelmingly lonely, calling home crying so often that I didn't even recognize myself. It wasn't that I was failing. In fact, I am almost certain that if I had stayed, better things were headed my way. I was making progress, slowly but surely. But progress wasn't the problem. The problem was me.
I love to sing. Honestly, if I couldn't sing, I don't even know how I would begin to define myself. But just before I decided to leave Nashville, I had a clarity that I couldn't shake: I was not equipped to live like this. Some people thrive on uncertainty, but I was not one of them, and suddenly the one thing I loved most in the world had become a source of stress and anxiety I didn't know I was capable of feeling. So after nine long months in Nashville, I quit my café job, put my room up for sublet, and came back home to Virginia.
It was a strange experience, coming home after all of that. It was such an immediate relief to be away that I don't think I even touched my guitar for a month. Every time I even thought about writing, I would only get a few words out before I would feel frustrated, like somehow it was pointless, like I needed to move on and do something else. But a lot of time has passed since then, enough time that I write songs again, and I do it all the time. It's funny how it worked out: In order to reclaim my love of songwriting, I had to get about as far from the mecca of songwriting as I could possibly get.
I still sing and play out every now and then. Even though songwriting isn't my life anymore, it will always be a part of my life, and no part of me will ever regret taking the chance and moving out there. I made some lifelong friends and learned so much about myself and what I wanted out of life by giving it a shot. Nashville is a doozy, and I wish for so many great things for the amazing and talented songwriters I know who still live there. Hopefully they will get their dues. In the meantime, the Scarletts and Gunnars of the world can pick it up where I left off.
Images Courtesy Of: Samantha Leonetti Photography