E!'s 'The Royals' Cast Spills to Bustle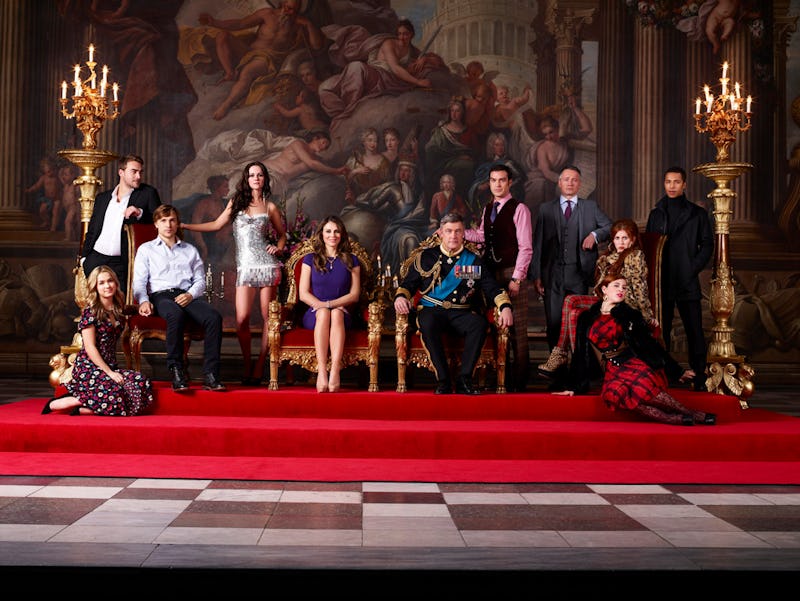 When you think of E! television, certain noteworthy families might come to mind: The Kardashians — to be sure — Paris Hilton and her clan, the Jonases, even the playboy mansion family. But what about royalty? It seems like an unlikely network home for England's most prestigious and well known family, but E! is tackling their very first scripted series with America's fascination with British royalty in mind. Meet The Royals , a show surrounding all the dirty (albeit fictional) laundry us common folk will never see behind the palace walls. From the trailer for the scripted series, which was released in August, we were promised sex, scandals and an upstairs/downstairs type hierarchy that could rival the corridors of Downton Abbey. Needless to say, I'm in.
The show follows Queen Helena (Elizabeth Hurley) and King Simon (Vincent Regan) and their royal brood — Prince Liam (The Chronicle of Narnia's William Moseley) and Princess Eleanor (Alexandra Park). Also embezzled in drama is Liam's commoner girlfriend Ophelia (Merritt Patterson), Eleanor's new guard Jasper (Tom Austen), as well as others.
I shared tea and crumpets with the younger cast members of The Royals, and chatted about what audiences can expect from E!'s wild new offering.
For 27-year-old William Moseley, this is not his first time playing royalty. Audiences will remember the toe-headed heartthrob in The Chronicles of Narnia series as King Peter.
"Last season I auditioned for this part on the CW show The Originals, and I got really close, but they said, 'Oh, you're just inherently too regal.' And I was like 'What the hell does that mean? That's the most annoying, irrating thing!' And I didn't get the part," he explained. "I'm just a country boy. I'm from a little cottage, surrounded by fields in the middle of the woods, I'm not really like royalty at all."
And while the actor can't relate to the lives of royals, he realizes the appeal of a show surrounding their lavish lifestyles. "I think we're all connected to fairytales. We love the idea of a prince, we love the idea of a palace, the idea of tradition. There's something special within those gates that we don't know about. And that secret, in and of itself, inspires Americans particularly because America has never had a royal family," he said, adding: "In fact America became independent from the royal family from King George in the 1800s."
Merritt Patterson, who plays Prince Liam's commoner girlfriend Ophelia, expressed her thoughts on royals and social media, a facet of technology that has only recently permeated the walls of Buckingham palace. "Royals cant use social media," she said plainly. "Perhaps they could for positive things like to promote a charity — but as far as taking fun photos or tweeting things like 'Oh my gosh, so much fun at soho house!' They can't do that."
Moseley echoed his on-screen girlfriend's claims, but addressed the benefits of technological social advances as well. "We live in a world where everything is touchable, everything is open. And that has been a great thing for all of us. Whether you say you like Edward Snowden or not, whether you say you like Julian Assange or not, they've done interesting things and they've opened the world to us," he argued.
And like other families under a constant spotlight, like let's say, The Kardashians, these fictional royals entice us for the few moments we'll never see. "The Kardashians — People are interested in that family because they are so rich and powerful, they seem to have everything in the world, and yet they are normal people who think about normal things, in which we can all connect to," Mosely said.
Tom Austen, who plays dashing Jasper, explained why he jumped at the chance to be on the show: "It's exciting to be part of a show that is really uncompromising. It doesn't try to pretend that [the Royal family} would do anything differently. They are all human beings with flaws, some more flaws than others. It's dangerous."
Unlike some celebrity lifestyles, the fame of a royal is never chosen, it is born into. Alexandra Park, who plays Princess Eleanor, describes the angst of her character: "She's 22, trying to find her way in the world, like any young woman," she said. "But at the same time she's living under an enormous magnifying glass being born into royalty — which she had absolutely no choice in the matter. It's her destiny, it's what she has to do."
The Royals doesn't hit E! until March of 2015, but you can watch a clip from the show below:
Images: E! Entertainment