Gotham Awards Recognize Women & LGBTQ Movies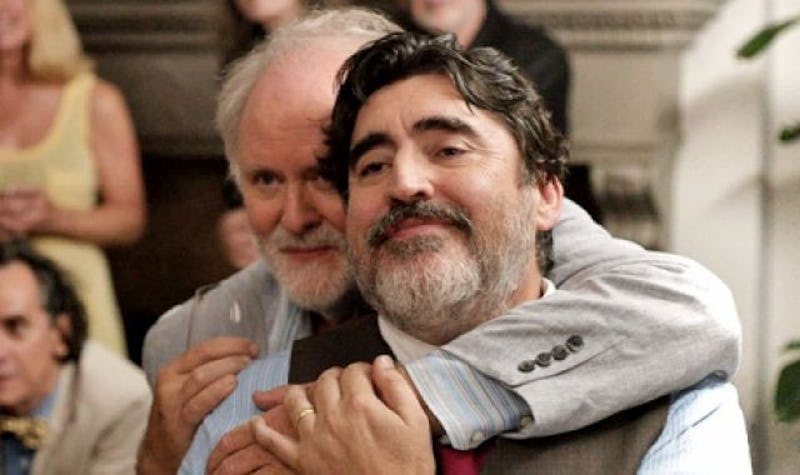 By nature of their "New York edge," the Gotham Independent Film Awards have always been a bit more progressive in their recognitions than the Oscars or the Golden Globes. This year's slate of nominees is a particularly impressive lot. In categories honoring the greatest features, documentaries, filmmakers, and stars of 2014, Gotham represents a likely unprecedented number of female parties and gay characters, hopefully introducing indie audiences to a wider range of quality projects worthy of their time.
Although we only see one female-led film in the top category, that being Scarlett Johansson's phenomenal and twisted Under the Skin (a film that is progressive in its own right, creatively tackling sex and sexual appeal as it defines gender identity), and none directed by women, additional categories offer more hope for those hoping to expand awareness of female creative forces.
The documentary category shines light on directors Laura Poitras, whose Edward Snowden deep dive CITIZENFOUR might be the most important film of the year, and Stephanie Spray, who co-helmed the delightful experiment Manakamana. Filmmakers Ana Lily Amirpour, of the vampire allegory A Girl Walks Home Alone at Night, and Eliza Hittman, of the tremendous coming-of-age drama It Felt Like Love, are recognized among the Bingham Ray Breakthrough Director Award nominees, both for movies tackling the experiences of young women in worlds of male power — the former in Iran, the latter in the empire of American teen sexuality.
The Breakthrough Actor category makes note of three rising female stars, the most formidable of whom might be Jenny Slate, who headlined the breakout hit Obvious Child. The romantic comedy earned Slate attention thanks to its unique absolution of abortion of its demonic connotations. A similarly sociopolitically charged comedy, Dear White People, sees one of its stars mentioned in the category as well: Tessa Thompson, the central character in the witty flick about contemporary racial politics, earns due favor on Gotham's latest plate. Additionally, the young Joey King is nominated for her spiritual preteen in Zach Braff's Wish I Was Here.
More impressive than Gotham's devotion to women this year is its attention to films about gay characters, and to the characters themselves. First and foremost, we have Ira Sachs' soft and somber Love Is Strange, a story about a longtime gay couple (played by John Lithgow and Alfred Molina) that endures a series of economic and personal calamities after finally earning the legal right to get married.
A bit more debatable as an element in this conversation is The Grand Budapest Hotel, which too earns a nomination in the Best Feature category. In the film, Ralph Fiennes plays impassioned hotelier Gustave H., a character never overtly declared to be gay (rationalized easily by the film's 1930s setting), but who many a film critic has understood to be so. Treating sex altogether as a "business arrangement," laughing off his right-hand man's suspicions of his attraction to a female colleague, and taking particular umbrage to being called a "fruit" by a personal rival, Gustave's homosexuality is hinted at, though never played in any way as a joke at his expense (as is so often the case with closeted characters in comedy films). Furthermore, as perhaps the most heroic and admirable character director Wes Anderson has to date created (not to mention the funniest — damn, is he hilarious), Gustave is, even in light of the tacit nature of his sexual orientation, a deliberately positive image of homosexuality for the cinematic tradition.
Finally, we have Bill Hader recognized in the Best Actor category for his role as a gay man enduring a tryst with depression in Skeleton Twins, a film in which he is the dramatic and comic standout.
While it might be a long while before the Academy offers the same attention to female directors and gay characters, we can take solace in Gotham's mission to broaden the public's understanding of which parties are perpetrating quality films these days. From a few nominations comes the encouragement to pursue more films of the like; resultant of this pursuit, more will be made; the more we make, the more get nominated. It's a terrific cycle that begins here.
Images: Sony Pictures Classics, The Cinema Guild, Fox Searchlight Pictures, Roadside Attractions