Maybe Teresa Shouldn't Return for Season 7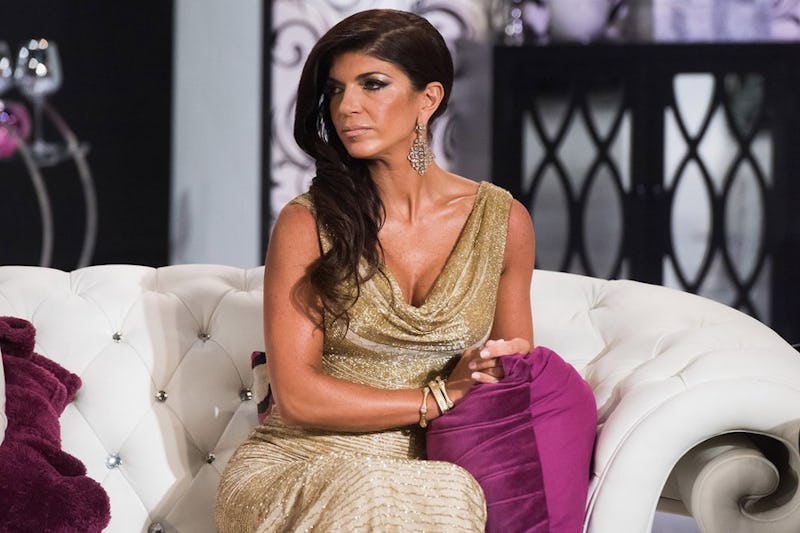 It has been a rough couple of weeks for The Real Housewives of New Jersey star Teresa Giudice. Probably the only thing on her mind these days is her sentencing to 15 months in prison, her husband's impending three-and-a-half years in jail, and the welfare of their four daughters during this difficult time. But as Season 6 of RHONJ comes to a close, I can't help but wonder if we will somehow see Teresa again in Season 7.
RHONJ has been with Teresa and Joe every step of the way during their legal woes, from their indictment to their plea deal to their sentencing, which was featured on the Season 6 finale. So clearly, they're not shy about letting the cameras capture even their most difficult moments. Now that Teresa is about to go all Orange is the New Black on us, it's a little late in the game to hide from the public eye.
Since Teresa has been ambivalent about whether or not she regrets ever being on RHONJ and the fact that she still needs that paycheck to pay those bills, bills, bills, I would venture to guess that Teresa would be on Season 7 of RHONJ if she could. However, that might be completely out of the question.
Teresa must report for her prison sentence on Jan. 5, 2015, so even if she wanted to film another season of RHONJ, it certainly would be tough to squeeze it all in in only two-and-a-half months. Bravo would basically have already had to start filming the second after Teresa and Joe were sentenced. ABC News reports that Teresa's attorneys tried to get her to serve most of her sentence in a halfway house, which could have made filming her while serving time more of a possibility, but the Federal Bureau of Prisons recently announced that Teresa will be completing her sentence at Danbury.
There have been rumors that Bravo has already begun filming Season 7 so as to get footage of Teresa before she heads off to prison, but they are just rumors, and there's no official word yet from the network on anything having to do with the next season of the show.
However, it wouldn't surprise me in the least if that rumor did end up being true. Teresa and Joe's sentencing has been a hot topic for the network, so I'm sure everyone involved wouldn't mind cashing in on that popularity while they can. See: bills, bills, bills.
As much as I think Teresa embodies everything great — and not so great — about RHONJ and I know the show is just not going to be as good or as entertaining without her, I do hope that she takes the time to live camera-free for the next couple of months. While I love exploiting someone's real life for my own entertainment as much as the next person, some things, like spending quality time with your family before going to prison, are just more important than reality TV.
Image: Charles Sykes/Bravo