'Constantine' Has a Fascinating Female Lead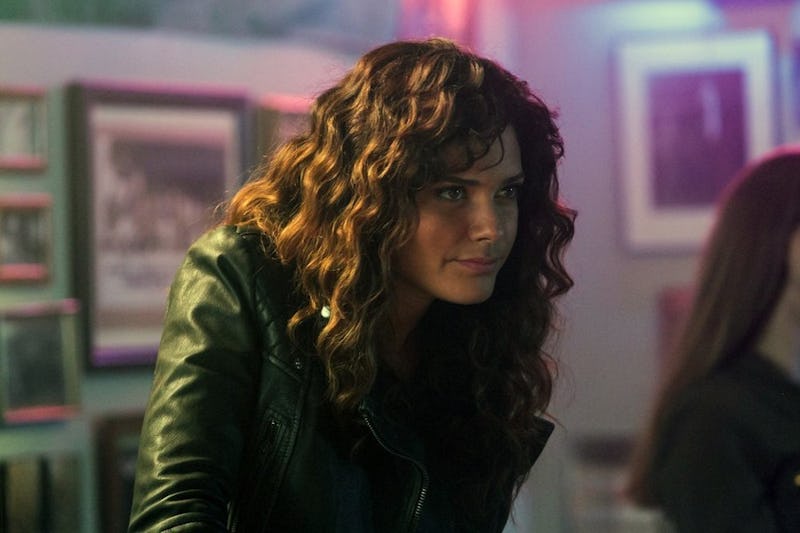 With several interviews introducing actor Matt Ryan as John Constantine and Comic Con previews for NBC's new show Constantine audiences seemingly had a good idea of what to expect with the upcoming series. The pilot revolves around DC Comics' working class, British magician John Constantine as he grapples with the sins of his past and saving humanity from a darkness most are unaware of. But frankly, I'm looking forward to Constanine's female lead Zed (Angelica Celaya) showing up on the new series.
At the outset, John Constantine is paired with Liv (True Blood alum Lucy Griffiths) who has psychic abilities making her a target for all the things that go bump in the night. The pilot makes it seem like this dynamic --- between a seasoned cynical magician and naïve psychic discovering this frightening, fascinating new world along with the audience --- would be the status quo. But it was announced in July that Liv was being written out of the show (not simply recast), which brought about a very important question. Who would fill the void of the female co-lead? Celaya, who was cast as Zed — a character who (unlike Liv) is actually from the Hellblazer comics.
Zed is psychic and former love interest of Constantine that appears as early as the fourth issue of Hellblazer. While she isn't my favorite dame whose name starts with a Z from DC Comics (that would be Zatanna, who's known for getting into it with the Justice League), I heartily appreciate more women, especially women of color, landing leading roles in genre fiction. But the inclusion of Zed brings up its own series of questions. Most importantly, when will Zed appear on the show if Liv needs to be written? Much sooner than expected. Like, end of first episode soon.
Constantine did reshoots to explain the loss of Liv and introduce Zed.
The marketing team behind the show aren't keeping Zed's presence and the change in the show a secret. Promos now put Zed front and center, establishing her firmly as the co-lead for the series. Hopefully, this means the show will put on equal footing with other important characters to the show's mythology like the angel Manny played by the excellent Harold Perrineau.
The Constantine showrunners told Variety they understood something wasn't working with Liv and we've seen the knowledgeable teacher/unknowing student dynamic far too many times in this kind of story for it to be interesting. But when I originally heard the news about taking Liv out of the show, I was worried. Changing a first episode so late in the game is already a big deal. But when you take a character out who seems to be central to the thrust of your show? That makes me wonder if the writers know what they are doing. But after reading interviews with cast and crew I got excited for all the possibilities Zed's presence opens up.
Executive producer/showrunner Daniel Cerone tells the Hollywood Reporter that Zed is "someone who can go toe-to-toe with John [Constantine] and that's ultimately what we felt like we needed." He adds:
We wanted a more dynamic relationship, as opposed to someone who is a teacher/mentor and a student. It just didn't feel as fertile and rich of an area as just a strong a man and a strong woman who are both very different.
Which makes Zed completely different than the naive, blank slate that Liv was supposed to be and much more exciting. If the writers are able to craft Zed to go "toe-to-toe" with Constantine, we're in for a treat.
Overall, Constantine has a hard task ahead. Appearing on network television demands that the character's edges must be sanded off. The violence, politics, and sexuality of the comics will definitely be toned down. But worse yet, even though it seems like a fun show it also feels very familiar. A supernatural drama that has a snarky, antihero lead? Looking at trailers brings to mind Buffy the Vampire Slayer, Sleepy Hollow, Angel, and Supernatural — I can keep going, but I think you get the point.
If the show is able to make Zed as awesome as the producers seem to want her to be that will definitely help the show standout from the usual antihero-led dramas modern television relies a bit too heavily upon.
Image: Tina Rowden/NBC