Show versus Comic: How 'Constantine' Changed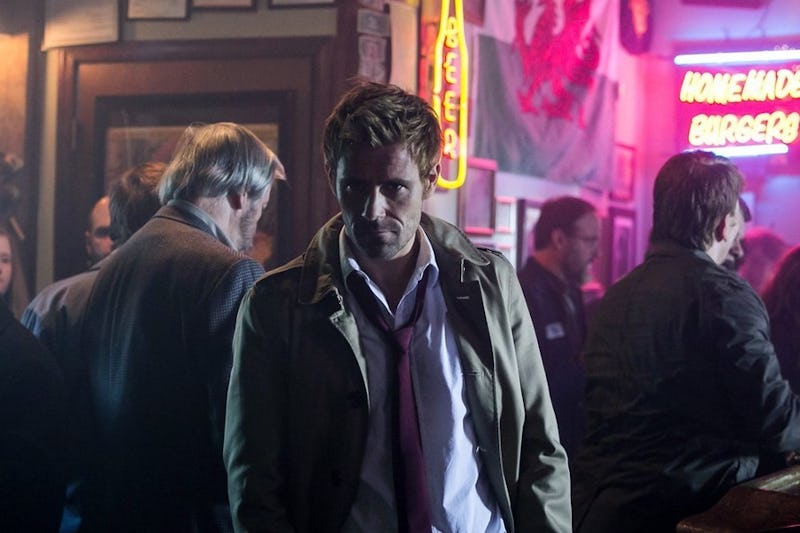 John Constantine, the lead character of NBC's new show, occupies one of my favorite realms of DC Comics. A place where magic is deadly and dark, ghouls exist, and people are never quite what they seem. Constantine is a smart mouthed, self destructive Brit whose magical abilities stem from knowledge not destiny. In my teens I read a lot of Hellblazer and found Constantine to be fascinating as the lead character in the Vertigo comic. Vertigo being the lurid, explicit young brother to its parent company, DC Comics. Now, Constantine has been folded into the main DC Universe appearing in Justice League Dark and has a new show on NBC. Wait, NBC? How is that going to work? Well that depends on what you like Constantine for and how you like your supernatural dramas served up.
NBC's new show is already on better footing than the 2005 film starring Keanu Reeves as Constantine. This is primarily because of casting Matt Ryan in the lead role. For one he actually looks and sounds like the character he is playing. Blonde hair, a grin that lies between smarmy and charming, and a rumpled, devil may care kind of style. Ryan seems to have a firm footing on his character and looks like he's having a blast playing him. He's just the right mix of damaged cynic and snarky antihero. Even though Ryan is obviously dedicated to playing Constantine, the rougher dynamics of the character have been nixed including his signature smoking habit. But what was most telling was the show's decision that Constantine will not be bisexual which became a topic of interest around fans.
His queerness was never a driving force or altogether frequently shown aspect, but that's besides the point. Why shouldn't he be bisexual? How many comic book characters in major television shows and films have been queer? Not many. The showrunners missed out on an opportunity to set the show apart from the hordes of other supernatural dramas full of a careful mix of violence, dry humor, and heterosexual white men in pain. This is ultimately what's going to make things difficult for the creatives handling the show. When Hellblazer first started out it was in a class by itself. It was smart with dense mythology, an asshole protagonist, and serious subject matter. But the show is coming into a field where audiences have seen Supernatural, Buffy the Vampire Slayer, Grimm, and Angel. Tonally, visually, and thematically Constantine resembles those shows a bit too much making it feel unlike the most beloved Hellblazer comics and slightly dated upon arrival.
Constantine is ultimately the kind of man you don't want to be friends with and can be a difficult character, to put it mildly. Throughout his comic book history the people who were in his orbit suffered greatly becoming collateral damage to whatever magical mayhem he ended up in. But will the writers be willing and able to show him as an asshole not just the usual antihero audiences have grown accustomed to? Will they find clever ways to introduce the darkness and smart commentary in a way that pleases their network studio bosses?
Creators Daniel Cerone and David S. Goyer seem to be dedicated to bringing the Constantine fans know and love to the screen. In an interview, Cerone speaks about how important Constantine comics have been to informing the show. He says, "We're going straight back to the source material. When Constantine first appeared in Swamp Thing, that's the timeline. That's when we're meeting him in our series. In fact, the American Gothic storyline heavily inspires our first season arc, so all the things that happen to Constantine over the course of the 30-year run in the comics, it's all ahead of him." Vulture's extensive article about Constantine's history, explicitness, and against-the-grain nature shows that most of the things that make Constantine a great character in Hellblazer just don't fit on network television.
The heart of the problem is that DC wants John Constantine to be a household name and to do so on network television means he's going to be softened to some degree. Ultimately, it is still too early for any final judgement on how well the show translates the comic. What made Hellblazer so wonderful was that its leading man wasn't extremely beholden to the corporate mandates of DC Comics until the last few years, unlike Superman and Batman. Constantine's television counterpart doesn't have that freedom.
Images: Tina Rowden/NBC (2); Giphy